Process Room, 10.07.07- 22.07.07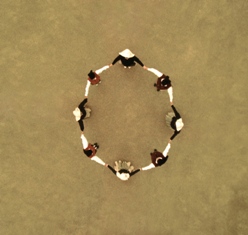 The filming in 16mm of a series of dances from the repertoire of a Catalan folkdance troupe is the starting point for the project on show in the Process Room; the work was originally created for "Productions" at the Museo Nacional Centro de Arte Reina Sofía earlier this year. They are dances whose origin is uncertain, though the choreography as known today is most likely 19th century. Their initial meaning seems to be a form of communication with the cosmos since the best viewpoint is from above. They are not danced as a performance but rather as a ritual where the spectator does not exist as such. The overhead position of the camera enables us to appreciate the structures executed by the dancers. The result shows that these patterns relate to molecular structures as well as to Baroque domes and Indian tantric diagrams.
"I am interested in dance as construction, as architecture, as to how the rhythms are put together with an internal, closed, unitary structure. Two dances have been selected for this exhibition, chosen for their circular structure. The dancers revolve and create forms that can symbolize the sun, the moon, and the stars."
The aim of these videos is not merely testimonial or documental, but rather that the dances should become an expanding diagram, a nucleus or energy point, a mantra, in which music, form and dance create a whole, a generating principle.
Peral belongs to a generation of artists who appeared in the early nineties and were decisive in the renewal of Spanish art at the beginning of the 21st century. Since his first solo exhibition at the Fundació Joan Miró in Barcelona (1992), Peral has followed a path of conceptual coherence and an urge for formal experimentation which have led him to make use of a wide range of mediums from drawing, photography and sculpture, to installation and video. This diversity enables him to forge an exciting, poetical encounter between the beauty of the simplest, most essential forms and the symbolic power they contain. Ovoid forms as germinal symbols, circularity, rotation, the earth-heaven axis, light and colour are the fundamental elements with which Peral builds on the subtle poetics of the universe, of a sense of space and time that fans out in multiple directions and expands with his experience of other places and journeys. Peral's works relate to the creation of the universe and, by extension, humanity, nature, life and death.
For a printable version of this information please download the folllowing document
Alberto Peral: Bailando (Word doc 2000 – 691KB)
Click 
here to return to Previous Participants
Click 

here to browse ARP Projects