Irish artist Caroline McCarthy recently worked in collaboration with Marguerite O'Molloy, Assistant Curator: Collections IMMA, to select a number of works from the IMMA Collection for Group Coordination an exciting new project which also incorporates works on loan from McCarthy's studio.
Borrowing its title from a sculptural still life by McCarthy, Group Coordination is part of the current IMMA Collection: Conversations exhibition. Below, Caroline writes a blog for IMMA on the project: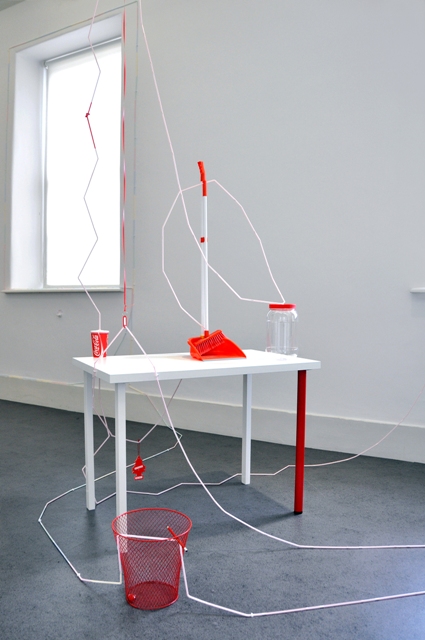 Caroline McCarthy, Group Coordination (Red),
2011, installed at the Irish Museum of Modern Art, 2014
Group Coordination is a drawing as big as the space; a journey which explores its architecture, responding to paintings and window ledges alike.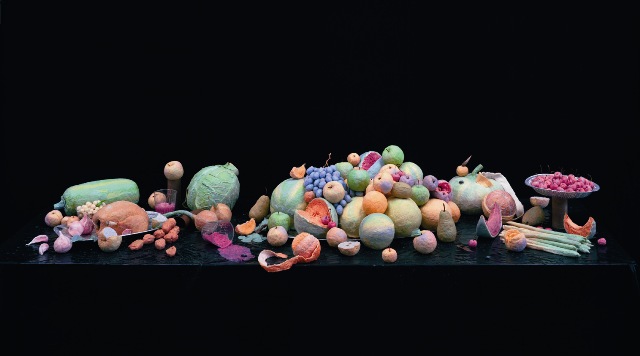 Caroline McCarthy, The Luncheon, 2002
Photograph of wet toilet paper sculpture (Sculpture: toilet paper of varying colour, water, black bin-bags, real stalks, fake flies, disposable tableware), 196 x 114 cm, IMMA Collection, Donated by A.I.B., 2002
Similar to my work The Luncheon, 2002, it works from a palette of everyday found materials and follows a certain logic in constructing itself: straws are straight lines which can change direction and colour; cigarette filter tips join them seamlessly; cable clips are the hanging system. Objects to hand are drafted in to anchor the drawing such as a clothes peg, a waste-paper bin, a rhino eraser from the Museum shop.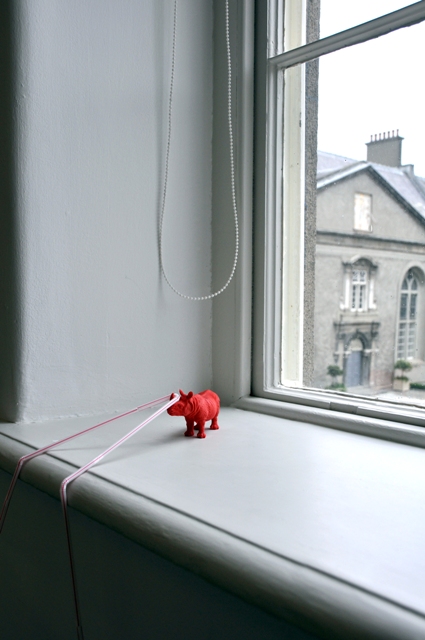 Inadvertently their positioning forms a kind of odd still life. In contrast Fergus Martin's Table takes everything out, and by doing so puts everything imaginable in; or you start to see things like dirt and scratches, holes and nails.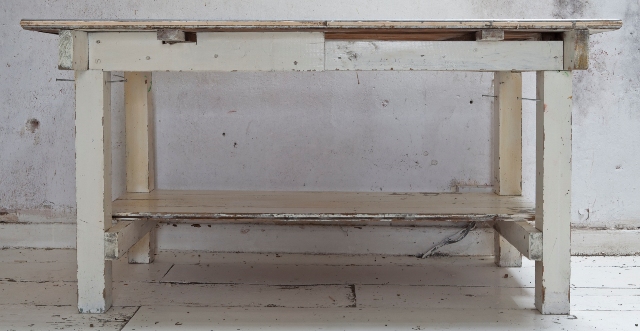 Fergus Martin, Table, 2009
Pigment print on photorag, 112 x 205 cm, Edition 3/5, IMMA Collection, Donation, the artist, 2011
We always look for meaning, where dumb, even empty, objects speak to us. Standing face to face with a bronze cast of a woman's silenced head, Unveiling by Janine Antoni invites (or dares you more like) to strike it like a bell.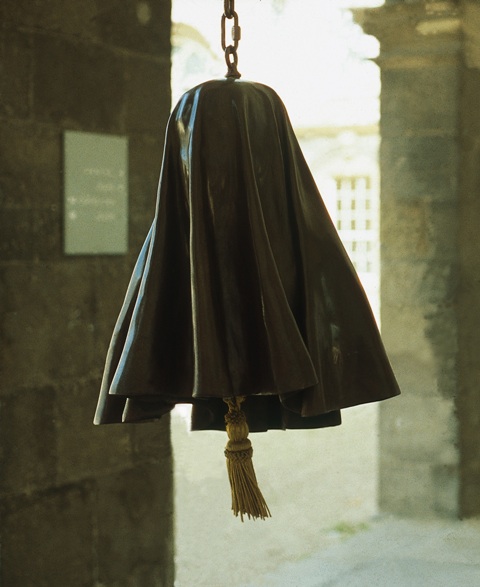 Janine Antoni, Unveiling, 1994
Bronze bell, lead clapper, fabric tassle, 53.5 x 33 x 33 cm, Edition 3/3, IMMA Collection, Purchase, 1995
I remember a visit to IMMA as a student in the early 90s when I first encountered and struck this work — Joyous, but somewhat uncomfortable.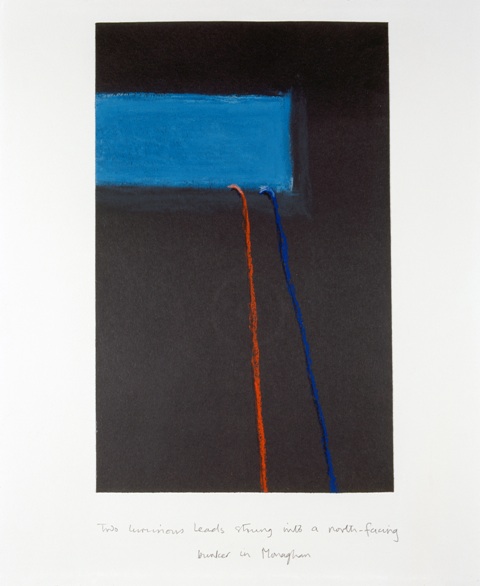 Terry Atkinson, Two luminous leads strung into a north facing bunker in Monaghan, 1986
Pastel and pencil on paper, 45 x 42 cm, IMMA Collection, Purchase, 1998
Terry Atkinson's still lifes are equally uncomfortable without having to strike them. As the titles or the 'leads' suggest, violent disruption is imminent, at least in the mind. Enrico Baj looks on; loose scraps assembled in a rectangle, unblinking circles, looking at you; looking ahead into the dark; terrified or crazy? We must be.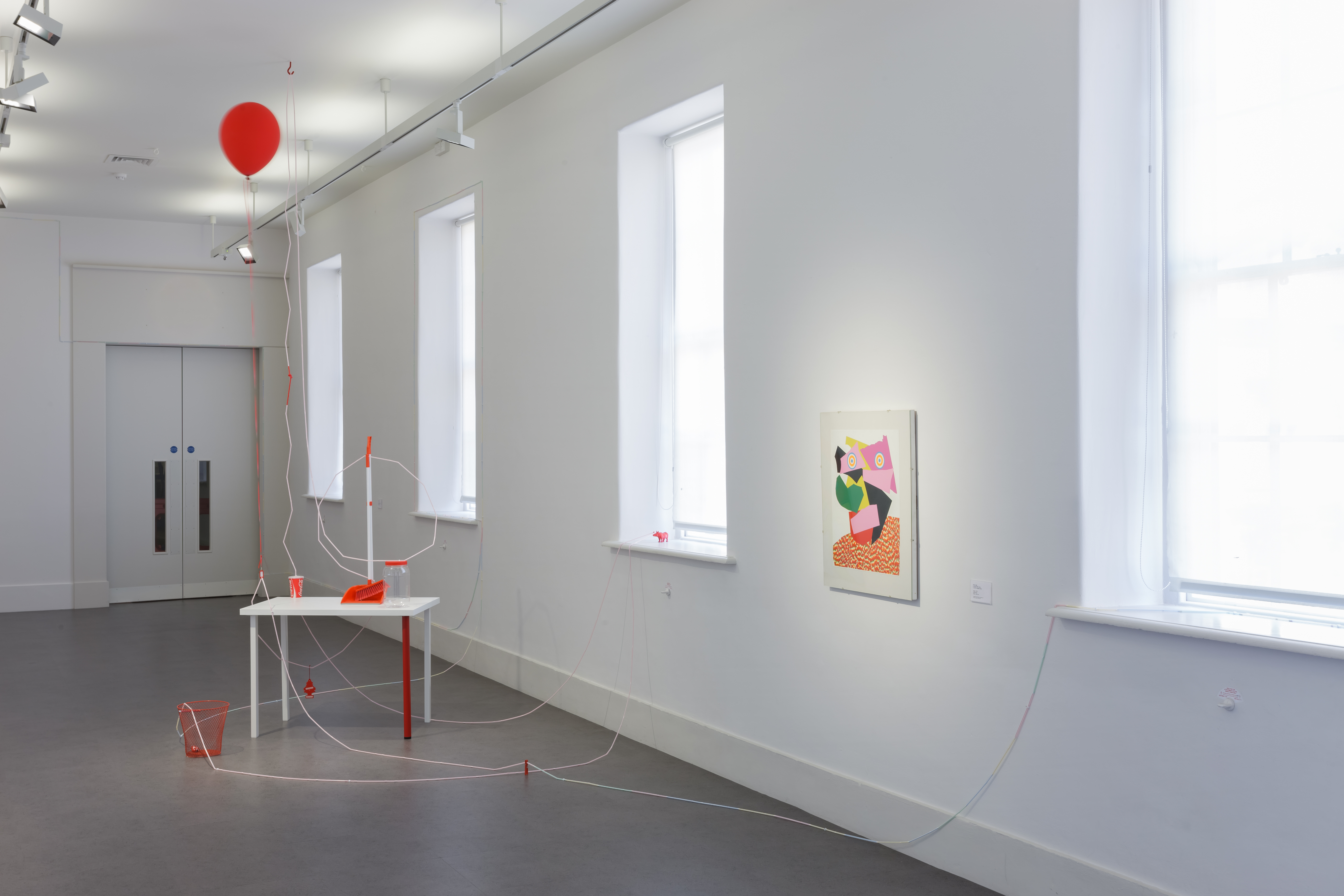 installation shot, showing Group Coordination (Red) and Enrico Baj Head, 1970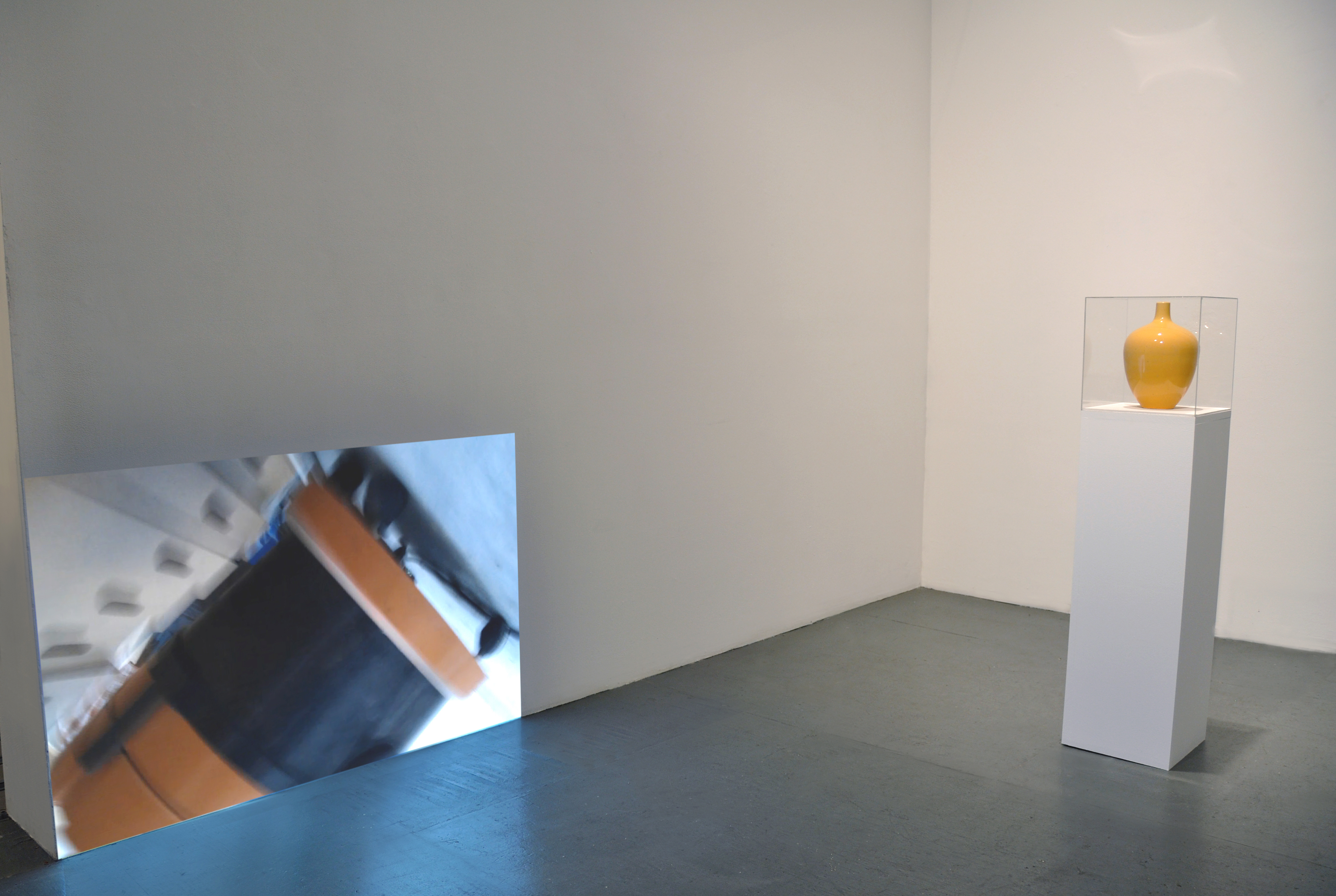 Caroline McCarthy, Production, 2011
Vase, display case, video, courtesy the artist and Green on Red Gallery, Dublin, 2014
Production films a cheap and cheerful Ikea vase being kicked about the studio. It is a form of uncontrollable making, involving a process which is at the same time both destructive and productive.
The film documents the transformation of a mass-produced object into something unique and irreplaceable, its damage being impossible to reproduce exactly, and therefore precious. It's not intended as a statement about consumerism, nor is The Luncheon, so much as exploring the language, the systems, and boundaries of art, display and everyday things (which often come from a shop). Michael Craig-Martin paints brightly coloured objects as if fresh from the pound store, but it's how these things get re-presented which bring an ordinary bucket to interestingly different outcomes in On the Table and Eye of the Storm.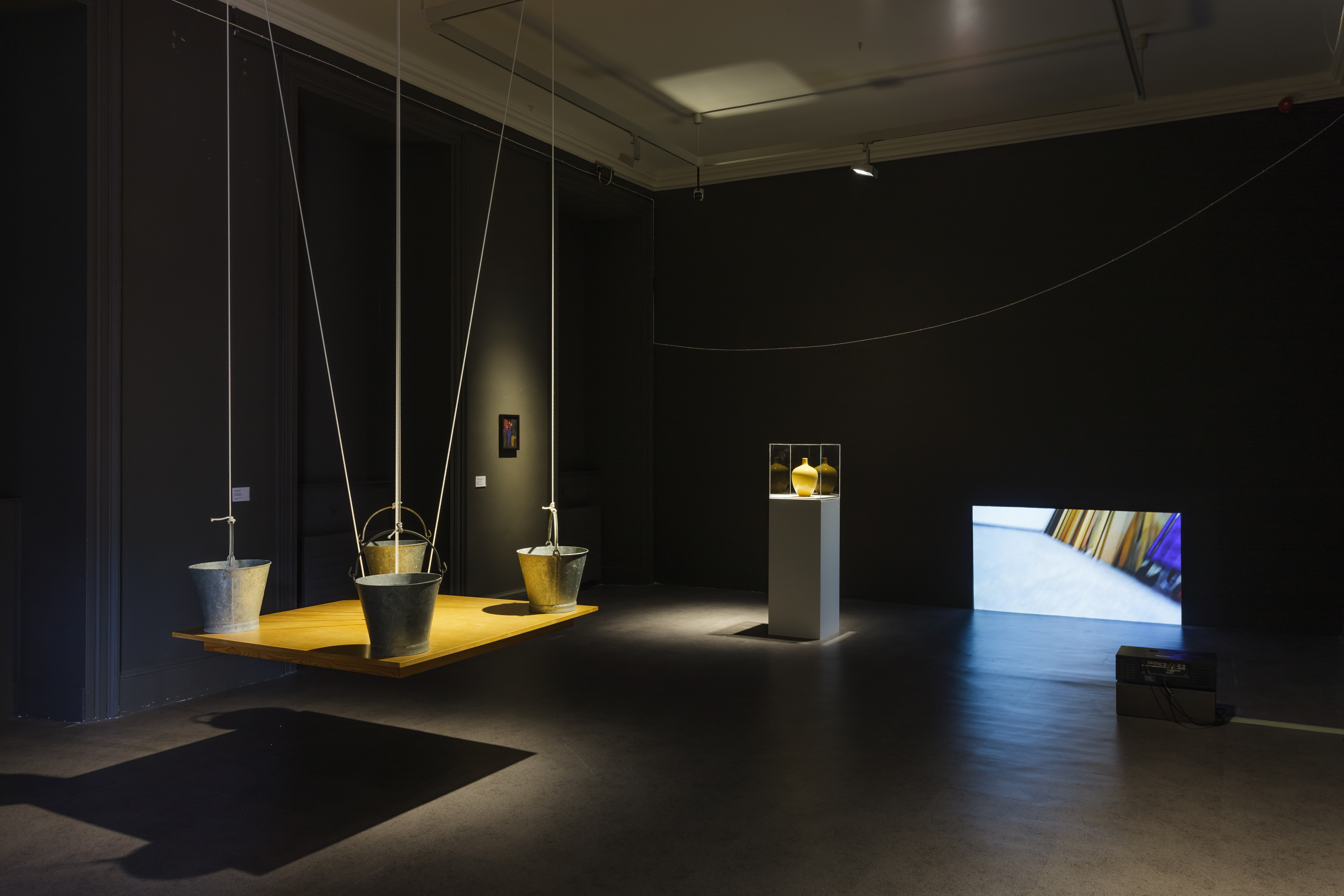 Installation shot showing Michael Craig Martin On The Table, 1971 (left foreground) with McCarthy's Production, 2011 and Paul Klee Flowers in Glasses, 1925 (background left and also below)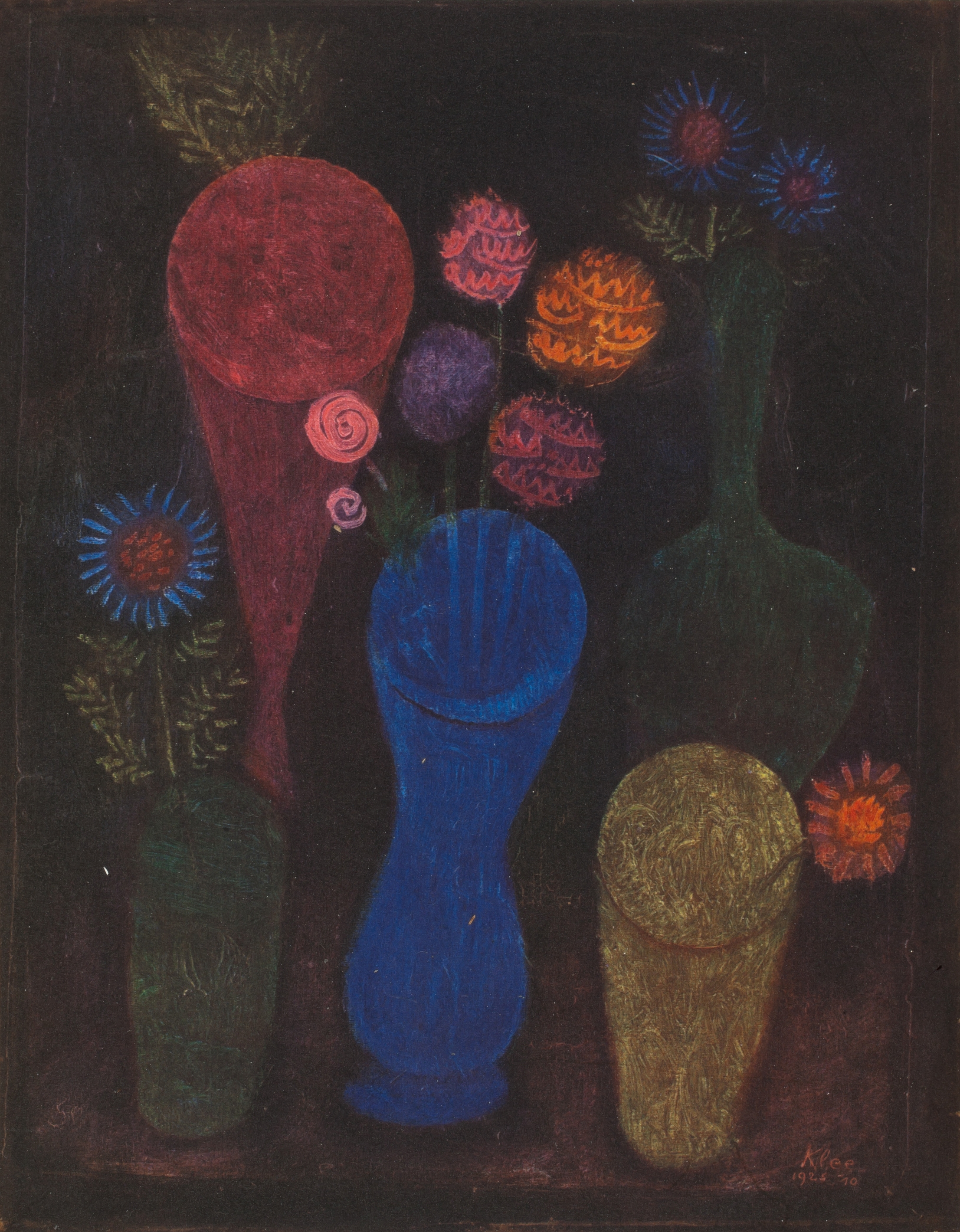 I like how in art the same things get borrowed and recycled over again and over the centuries to different ends, like heads, or tables, or flowers — when they stop being flowers, and become a vehicle for something else; or when a rhino makes a journey from real life through Warhol (via Dürer maybe), to an eraser in the Museum shop. Before rubbing itself out.
Caroline McCarthy, London, 2014