Marguerite O'Molloy, Assistant Curator: Collections, introduces a group of works by Elinor Wiltshire from the IMMA Collection, currently on show as part of the current IMMA Collection display Conversations.

A group of works currently on show at IMMA were selected from 12 needlepoints by Elinor Wiltshire now in the IMMA Collection. These come from a body of more than 50 counted-thread embroideries made by Wiltshire in London between 1982 and 1989. In these needlepoint pieces, Wiltshire has used either horizontally or vertically worked stitches (rather than diagonally worked stitches seen in cross-stitch for example). This apparently simple detail results in markedly different outlines.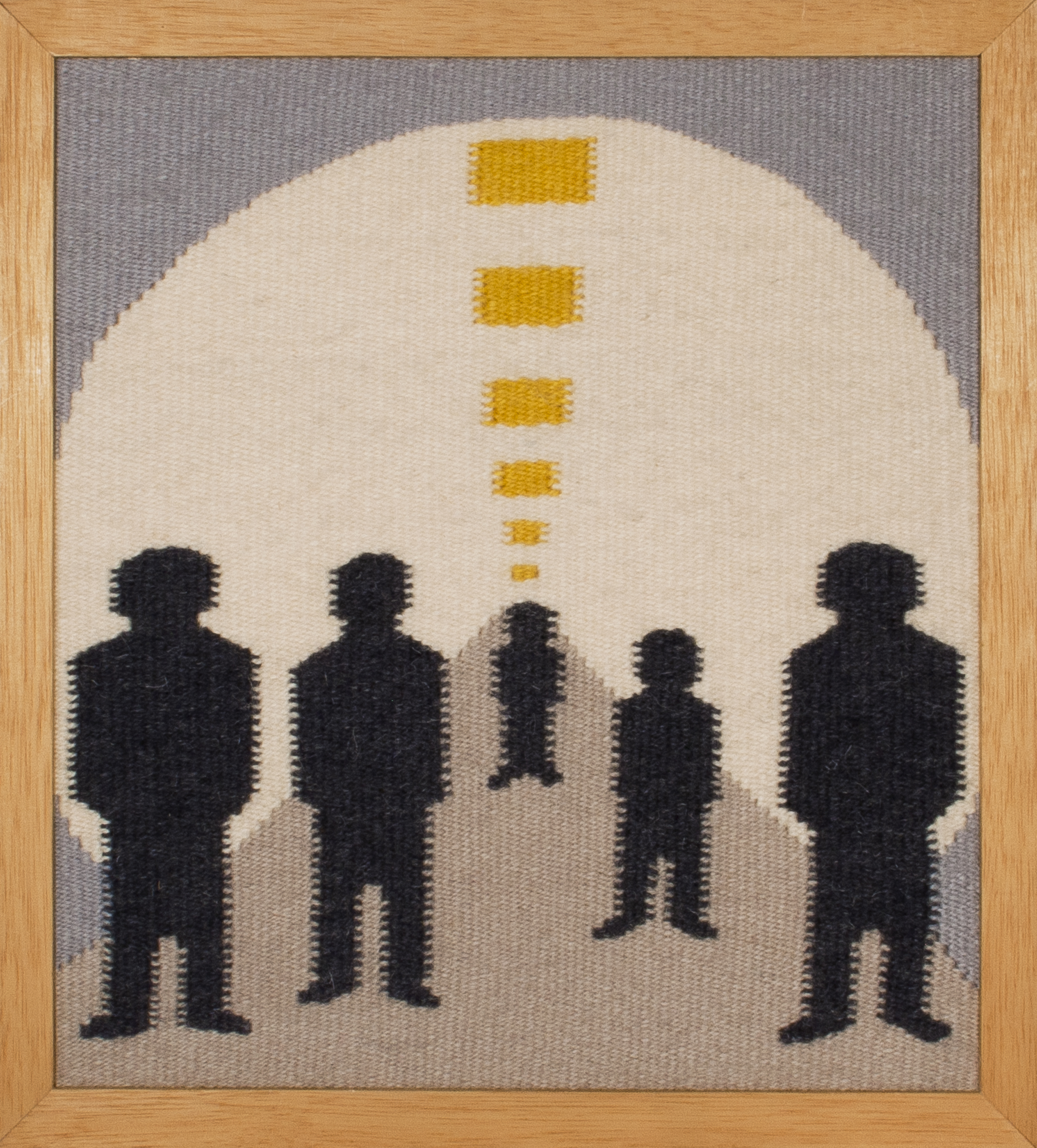 In Greenwich Tunnel, (above) the silhouetted figures have a dashed outline caused by using horizontal stitches and this adds a slight vibration to the edges of these figures; whereas in Crush Hour, the choice of vertical stitches ensures a clearly defined outline of the figures squashed like sardines in the train carriage.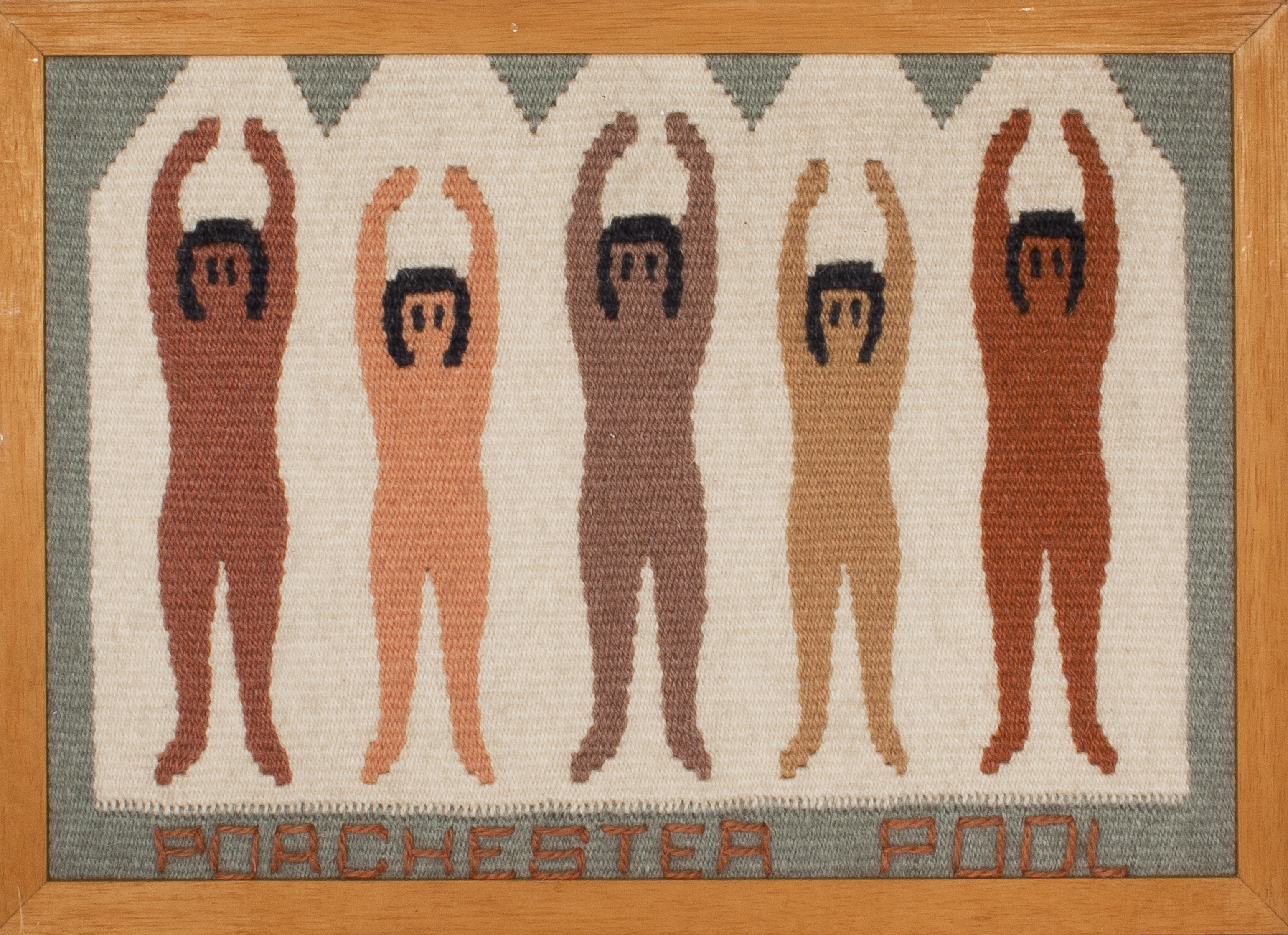 In Porchester Pool stitches are vertical, again allowing a streamlined outline for the figures, while also alluding to falling water from the overhead showers.
Speaking about how Elinor worked, her niece Sylvia Reynolds recalls how "Elinor would see an interesting or unusual juxtaposition of people; places; animals; plants or observe an interesting incident and then she would record the images or incident as a drawing when she got home. The drawing would be simplified to a clear design. She used felt pens/coloured markers at some stage, and often used her local stationers to get copies enlarged or reduced, which she could further modify. Then Elinor transferred the design to canvas, probably by overlaying the canvas on her clearly marked design and tracing the design onto the canvas. She liked to work with wool, not synthetics! Most of her wool pictures were based on what she saw in or around London, with a few based on incidents noted when she made Irish visits. Similar designs were often also used on cards for family and friends, variously coloured or not."
Originally from Limerick, Elinor Wiltshire (nee O'Brien) later married her husband Reginald and together they founded the Green Studios on St Stephen's Green in the 1950s. Following her husband' death in 1968, Elinor sold the photographic studio in Dublin and moved to London where she worked as a botanist and researcher at the Natural History Museum her research has been published in The Irish Naturalists' Journal and other peer-reviewed journals.
Wiltshire is perhaps best-known for her photographs The Wiltshire Collection of 1000 negatives and 300 prints is held in the National Library of Ireland, and spans a twenty-year period from 1951. The bulk of the images feature Dublin, providing a view of life in the capital during that period. If Ever You Go to Dublin Town, an exhibition from the archive, took place in 1999.
Wiltshire's paternal grandmother Florence Vere O'Brien (d. 1936) was a key figure in the revival of Limerick Lace, and helped to set up the Limerick Lace Training School in 1889, taking over complete responsibility in 1893. Florence Vere O'Brien worked with James Brenan, R.H.A. Master of the Cork School of Art, which later became the Crawford School of Art. Their aim was to make it easier for women to undertake artistic & technical training.
Elinor Wiltshire's works are currently on view as part of Conversations, the ongoing exhibition from the IMMA Collection, now open in the West Wing (turn left at the top of the stairs in the main building).