Marguerite O'Molloy, Assistant Curator: Collections, talks about the current IMMA Collection display Conversations, and the recent introduction of works from Elaine Reichek and Helen Chadwick to the exhibition.
When we selected and installed the current display from the IMMA Collection; entitled Conversations, we planned to make changes to certain rooms at some point during the exhibition. Decisions as to what would be changed, and when, were left open at that point, to allow curatorial staff a degree of flexibility to respond to the wider programme, or to current events. This is a new way of working with the Collection that gives us the scope to be more responsive, rather than limit ourselves to a single, long-term hang. It as allows us to introduce new works and, over time, places more works on display for visitors to experience
With that in mind, we recently took the opportunity to change one room in the West Wing, removing Andrew Vickery's work Do you know what you saw (pictured above). The room was then re-hung with two works: Elaine Reichek Chiricahua Apaches, 1992 and Helen Chadwick Untitled, 1991, which joined woolworks by Elinor Wiltshire, already on display in this room, creating interesting dialogues between artistic practices.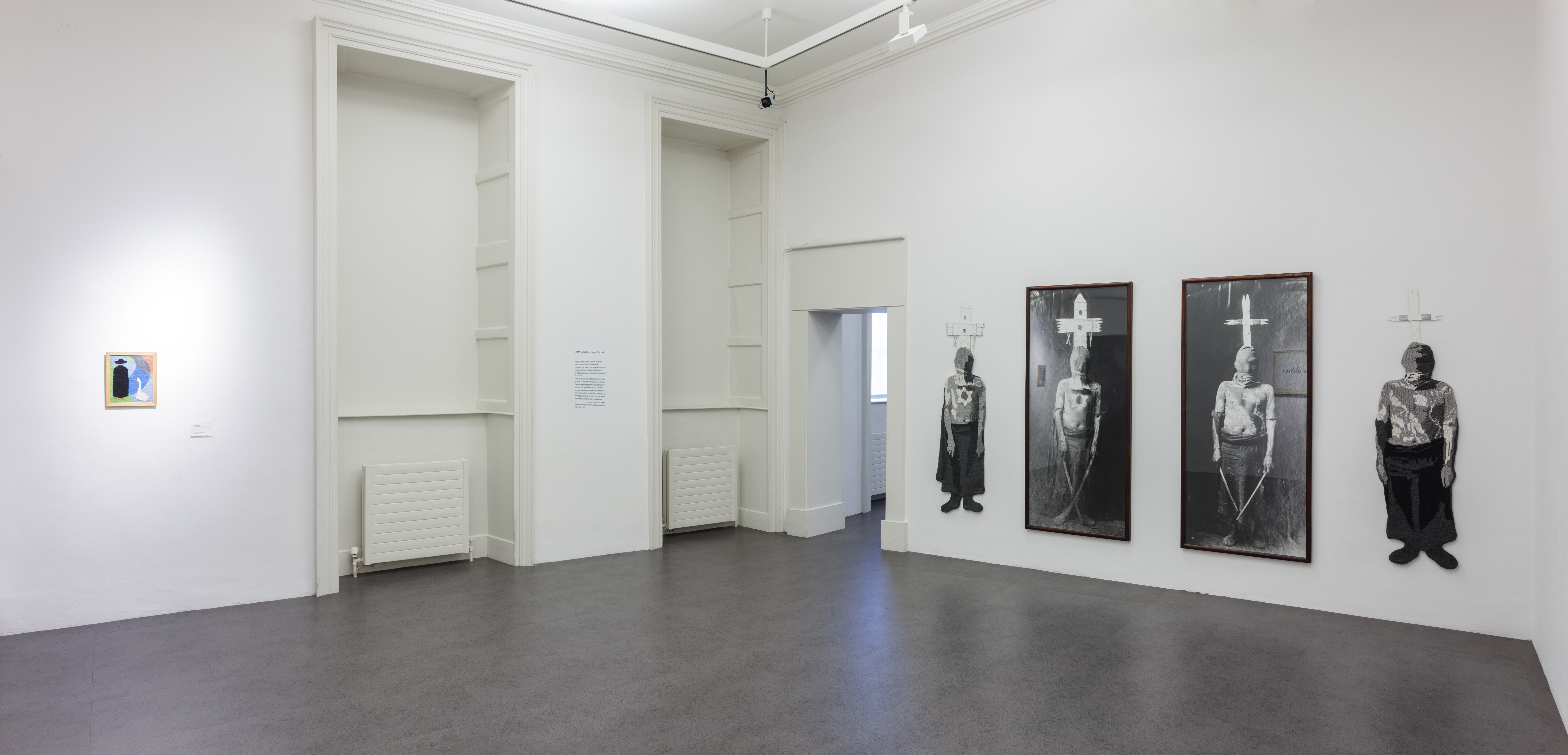 The Selection Process
The selection of Reichek's piece was informed by two projects currently on show at IMMA, Trove, Dorothy Cross selects from the National Collections sponsored by BNP Paribas, and Duncan Campbell, both of which demonstrate an interest in what we chose to collect, and how we then display it.
Trove looks anew at objects considered to be of great importance, placing them on display for the visitor to consider and experience from the unique perspective of an artist, in this case Dorothy Cross. Also, currently at IMMA is Duncan Campbell's Turner Prize winning film It for Others, in which he uses African sculptures. The ethnographic objects in Campbell's film are in fact replicas of Museum artefacts. The original objects were not released to him for his film, so he worked with model makers – this in itself is an interesting story, which Campbell touches on in this guardian interview.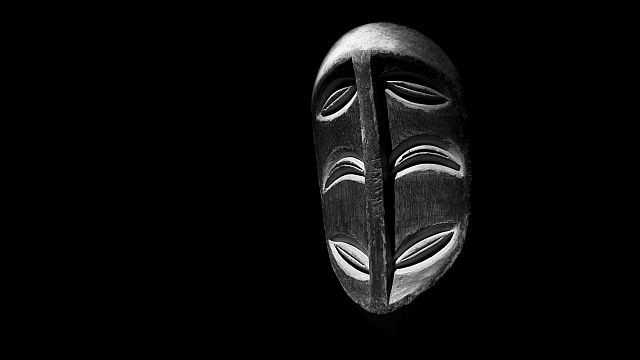 Research into Museum Collections is integral to all three artists' practices. It was Reichek's research into the picture files of The Museum of Natural History in New York that led her to the images that she uses to make Chricahua Apaches. Campbell and Reichek share an interest in how identity is formed, particularly how manipulated images are used to communicate nationhood, but it was Dorothy Cross's interest in the pairing of object and image that cemented the idea to show Reichek at this time.
Storage and Archive
Bringing any work out of storage starts with research into our IMMA Collection archive files, which are crammed with press cuttings, correspondence, faxes and other exhibition materials. These files provide invaluable information on the artworks themselves, and also documents IMMA's unique relationship with each artist over time. IMMA's collection is still very new, just twenty three years in the making, and our correspondence with living artists is ongoing, meaning our archive about collected works is ever-growing. Our contemporary collection now amounts to some 1700 works. Elaine Reichek Chiricahua Apaches, 1991 purchased in 1992, has an acquisition number of "IMMA.90" indicating that it was in the first hundred works that IMMA acquired.
The archive file contained rich material relating to Elaine Reichek's solo exhibition at IMMA in 1993 titled Home Rule, including this double sided sheet (pictured below) which served both as gallery floorplan and exhibition guide. A fax dated 4th July 1994, from Ruth Ferguson, Curator of Collections at the time, indicates that Reichek also exhibited at IMMA as part of a 1994-1995 season of exhibitions entitled From Beyond the Pale. Further research into IMMA's Exhibition archives might therefore reveal even more information.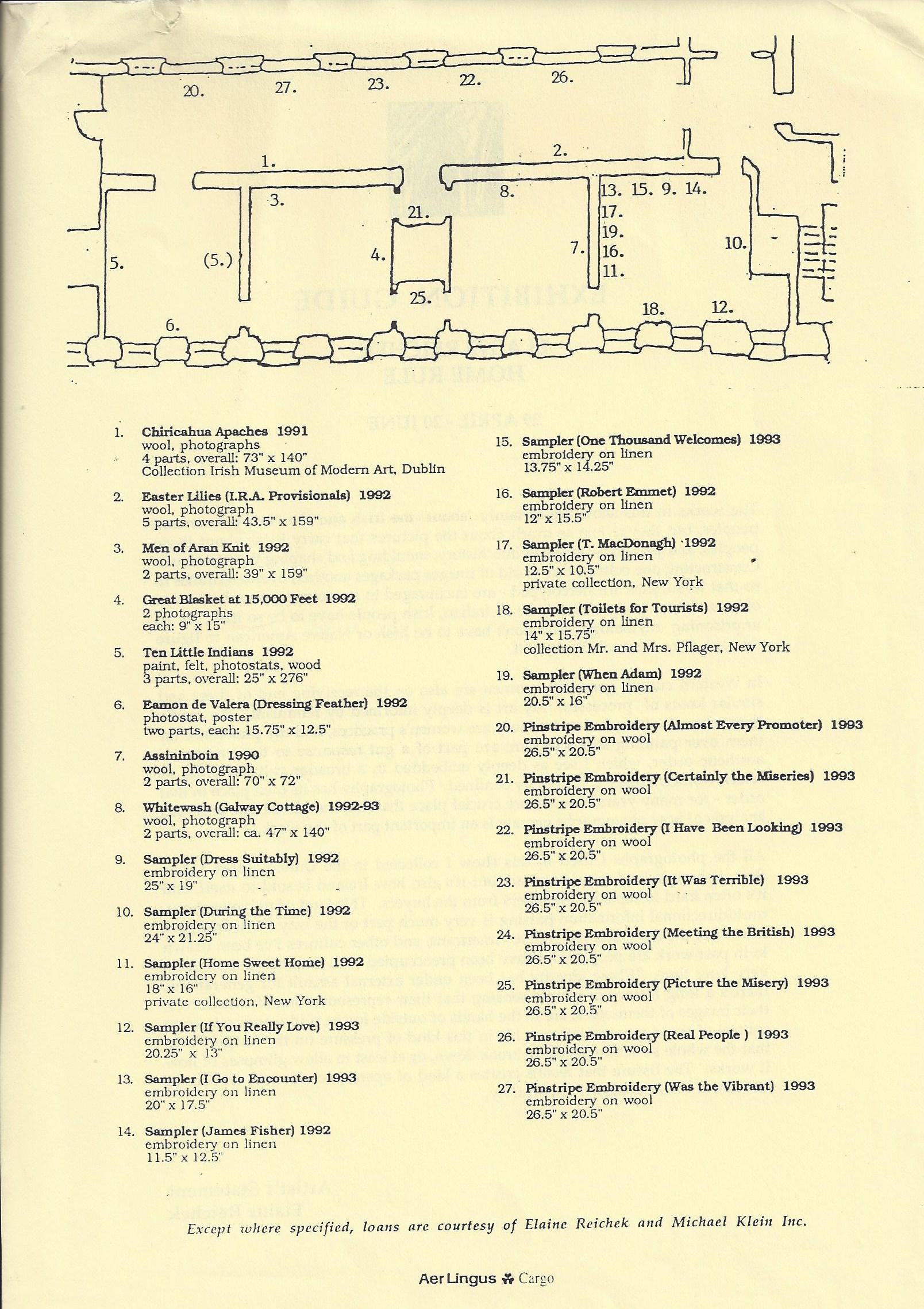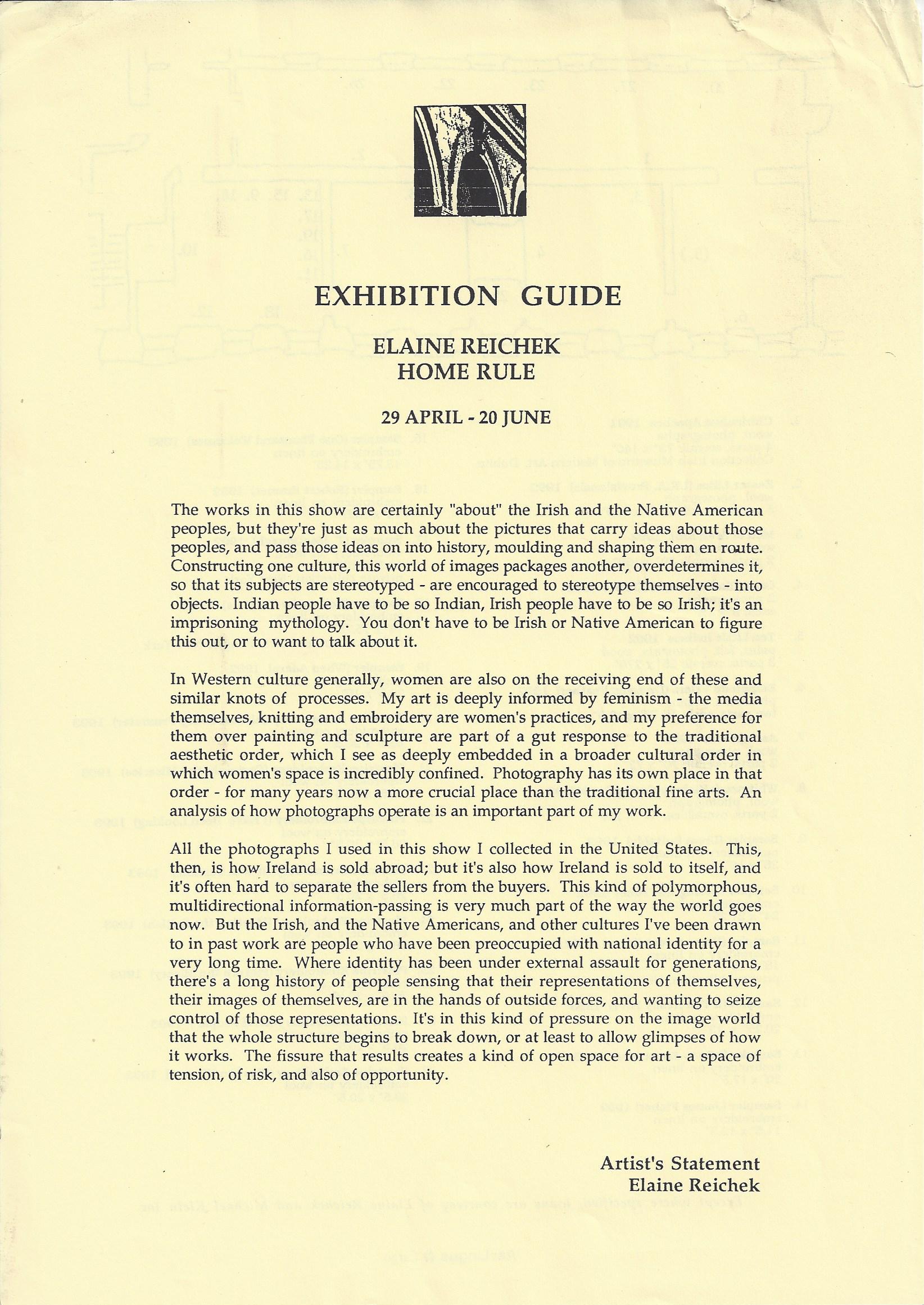 Subsequent to these two exhibitions, a number of closely-related works were acquired for the IMMA Collection —Chiricahua Apaches, and Silver Photograph I and Silver Photograph II. All can found on IMMA Collection online.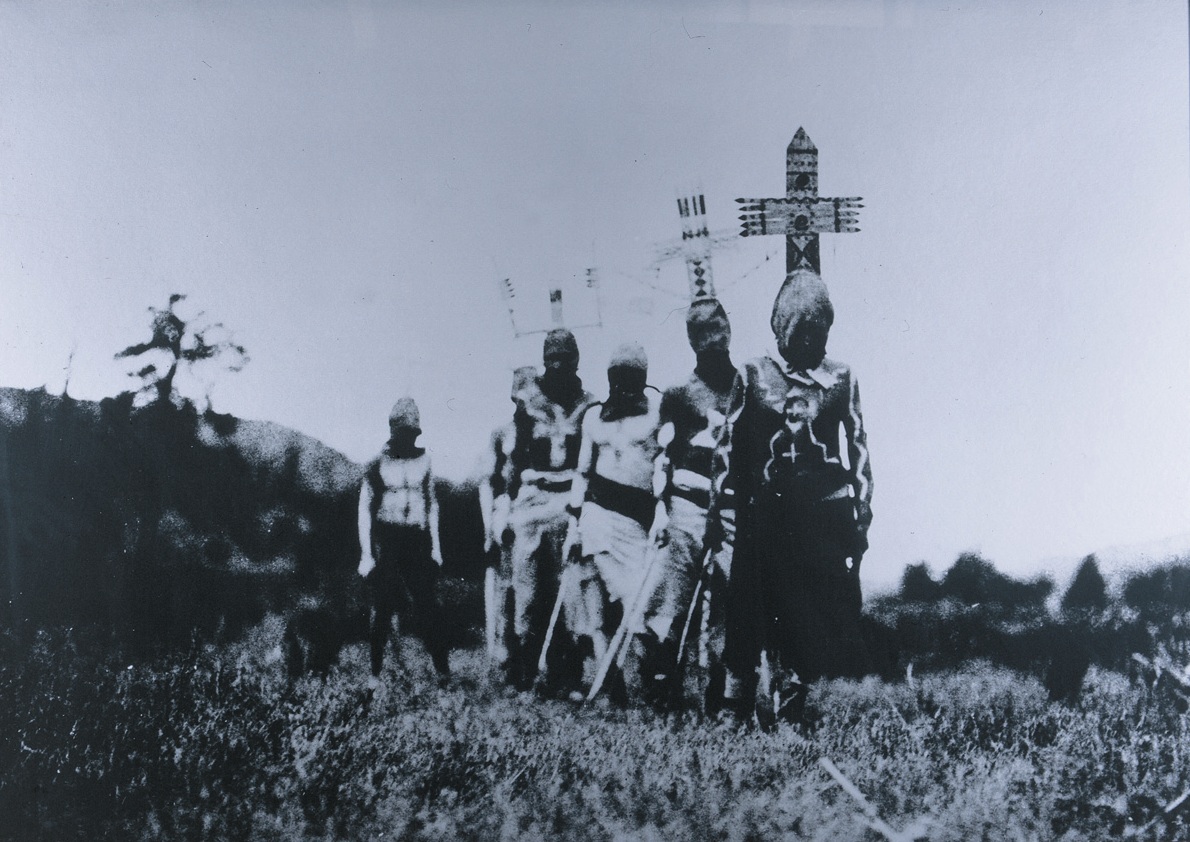 Collection Conversations
Elaine Reichek lives and works in New York City. In preparation to install the work, I was in close contact with her to discuss various details found in the file. Elaine was involved in planning this current installation of the piece, including supplying a crucial missing element which was required to complete the installation.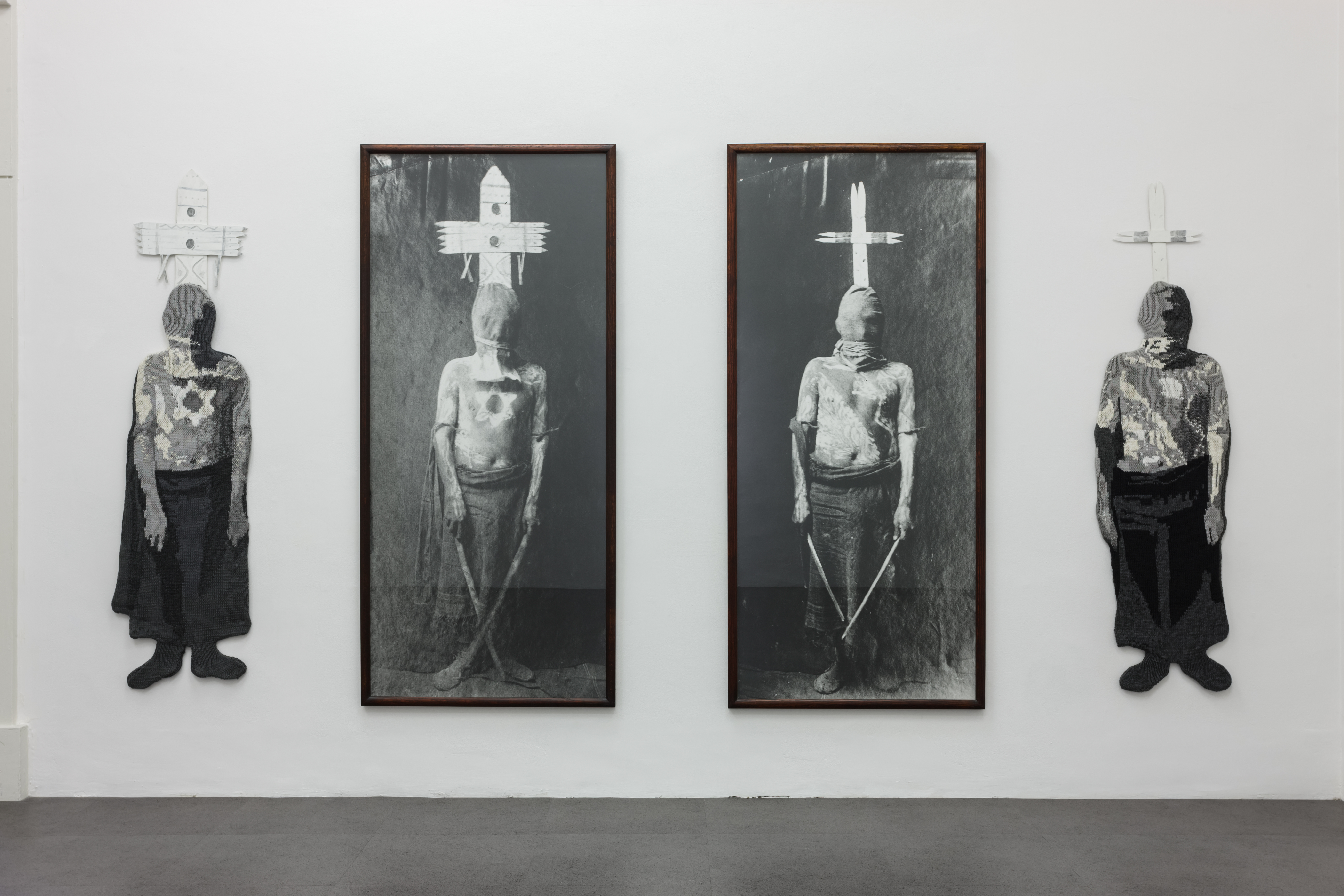 The artist also gave feedback on the wall text I had drafted, adding important details which appear in this final text (pdf)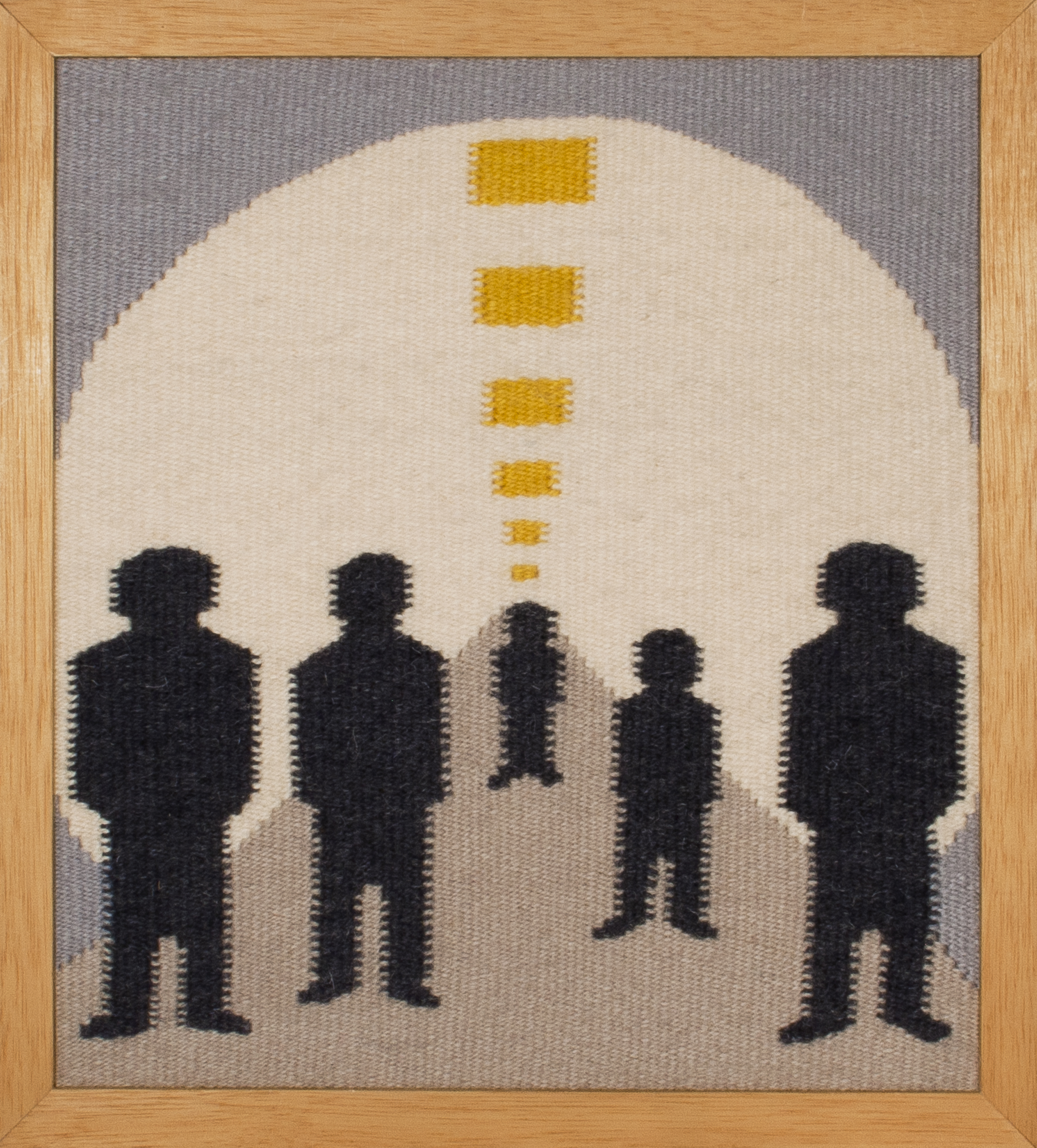 During our correspondence, I also told Elaine about the other works by Helen Chadwick and Elinor Wiltshire that we were showing in the room with her own work. She sent me this enthusiastic and warm comment "I am only familiar with Elinor Wiltshire's photography and would love to see some images of her work in wool. I am a big fan of Helen Chadwick's work and the pairing is inspired."  In this way our dialogue continues, with knowledge being shared back and forth between Museum and artist's studio. (If you are interested in Wiltshire's work you can read more about the works currently on show in IMMA )

The other work in the room is by Conceptual artist and femininist Helen Chadwick who was reknowned for pairing of opposites, employing unconventional pocesses to create aesthetically beautiful works. In Piss Flowers 1991–92 (shown by Richard Saltoun Gallery at Frieze Sculpture Park 2013), Chadwick cast sculptures from interior spaces created by warm urine in snow. In Adore >< Abhor (pictured below), the work currently exhibited in IMMA, the close relationship between attraction and repulsion is explored here through the use of word play. Two words, adore and abhore – antonyms or opposites for each – are mirrored typographically on the page.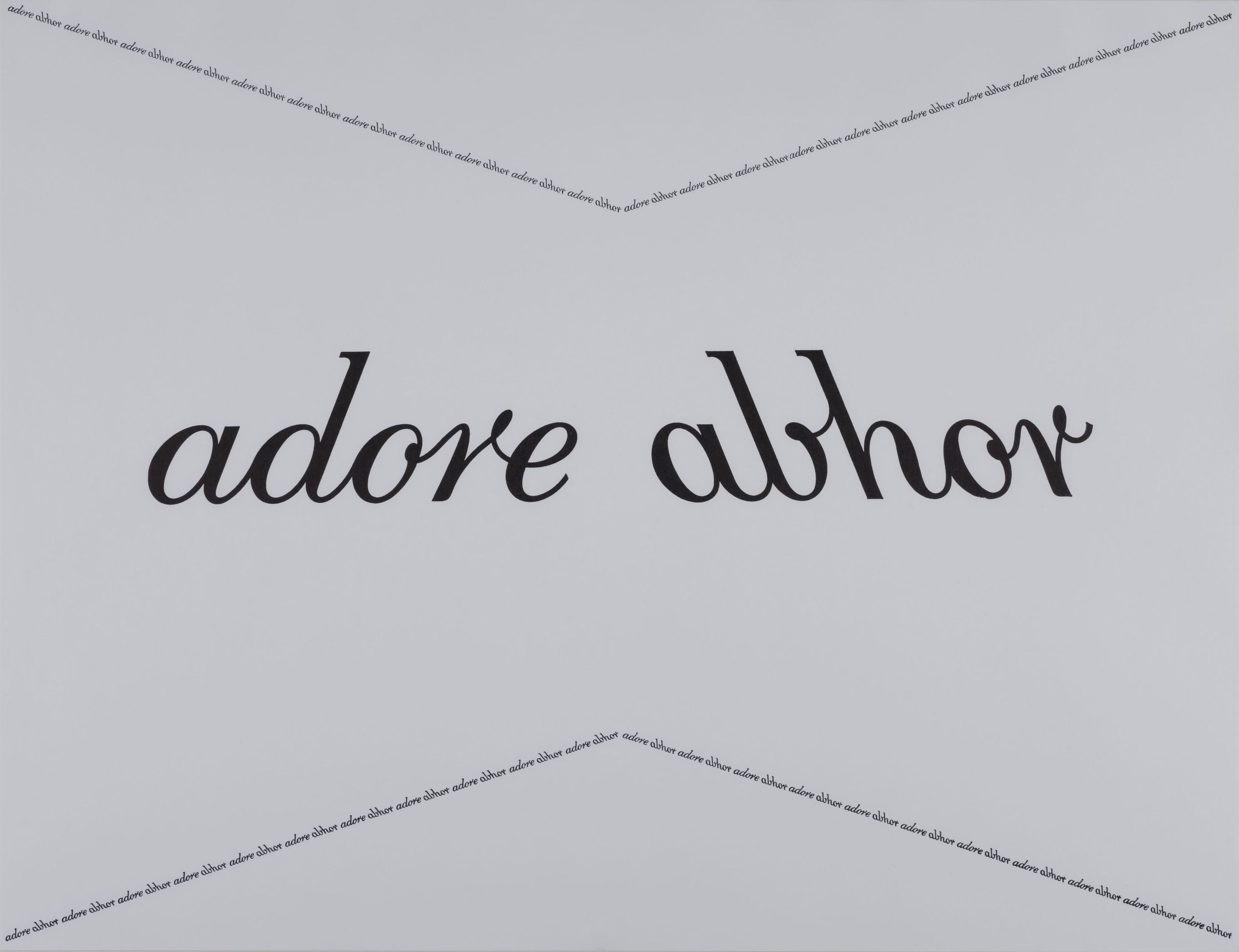 The artist's individual title for this image is Adore >< Abhor, using the mathematical symbols for 'greater than' and 'less than'. A related work, Adore; Abhor, 1994 was recently shown in MAD BAD SAD at the Freud Museum London.
Conversations, an ongoing exhibition from the IMMA Collection, is now open in the West Wing (turn left at the top of the stairs in the main building).