Overview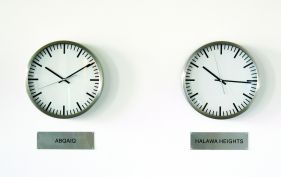 Studio 3A
December – February 2010
Video/photography/installation/performance/sculpture
Will Kwan's artistic practice takes a critical view of the visual and material culture of globalisation and examines the sociopolitical and cultural consequences of how the 'global' is represented. He is interested in the iconography and vocabulary that shapes the concept of a synchronised, impartial and frictionless world economy, but also the omissions and contradictions that haunt our 'global pictures'. Kwan's projects also study globalisation as a historical experience of intercultural encounter and exchange at the level of politics, identity and daily life.
Born in 1978 in Hong Kong and raised in Canada, he received his MFA from Columbia University in 2004 and from 2005-06 was a research fellow at the Jan van Eyck Academie in the Netherlands. His work has been presented at P.S.1 Contemporary Art Centre, New York; the Venice Biennale; the Montreal Biennale; Duolun Museum of Modern Art and Zendai Museum of Modern Art, Shanghai; Art in General, New York; the Power Plant, Toronto; Contemporary Art Centre, Vilnius; Polish National Museum, Poznan, and Cittadellarte-Fondazione Pistoletto, Biella. Kwan is currently a lecturer in the Department of Studio Art at the University of Toronto, Scarborough, and in the graduate faculty in the Masters of Visual Studies Programme at the University of Toronto, Ontario.
The Process Room
Will Kwan's work was shown in the Process Room, First Floor Galleries, from 9 to 28 February 2010.
Click

here for further information
Related Links

www.studiowillkwan.com