Overview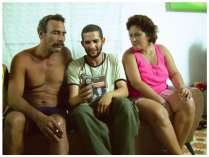 Studio 3B
April – August 2006
Sculpture/photography/video/film/sound/installation/critical writing/curatorial practice/intervention
Much of Vanessa O'Reilly's work relies on a complex set of locating circumstances organised around systems inherent in a scenario. In Western cultures scenario thinking dominates politics, economics, film, television, literature and art. Through her work O'Reilly chooses dynamism and economy of scenario with its constantly changing sequence of possibilities in a specific and rational way. A nomadic sensibility, an understanding of the shifting nature of possibilities of display, as well as the paradigms that surround and create each and every opportunity, are features of O'Reilly's work.
The Process Room
Vanessa O'Reilly's work was shown in the Process Room, First Floor Galleries, West Wing, IMMA, from 22 August to 3 September 2006.
Click

here for more information