Overview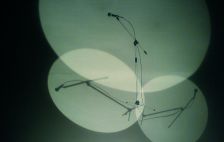 Studio 11
August – November 2008
Drawing, installation, video/film
Drawing is Ulrich Vogl's medium, he enjoys the experimental and open character of drawing. Vogl experiments with different concepts of time, the altering nature of objects, the use of everyday materials and the physical interaction with people and with space. After a period of experimentation the result of Vogl's drawings become very specific and deliberate. For the last three years Vogl has been working with mirrors, their reflections and drawings on glass. On other occasions he draws directly on a wall, an escalator, found boxes etc. Some are dramatic and loud, intentionally because this is what people least expect from drawing. Others are very simple and quiet and may have a solemn undertone. Many are playful, not for the sake of it, but as a way to draw people in and give them the possibility to interact with the work and as a result this response creates a level of enjoyment for Vogl.
Recent solo exhibitions include Premiere, KrasakaEckstein, Bremen, 2007, and Goldgräber, Kevin Kavanagh Gallery, Dublin, 2006. Selected group exhibitions include Villa Grisebach, Berlin, 2008; Benjamin Greber, Ulrich Vogl, Viafarini, Milan 2008; Better is something you build, Kevin Kavanagh, Dublin 2008; Windkanal, toilette 27, Berlin, 2007; s/w, bell street project space, Vienna, 2006, and Micro Universe, The Lab Gallery, New York, 2005.
The Process Room
Ulrich Vogl's work was shown in the Process Room, First Floor Galleries, from 11 to 23 November 2008.
Click

here for more information
Related Links

Kevin Kavanagh Gallery

www.ulrich-vogl.de