Overview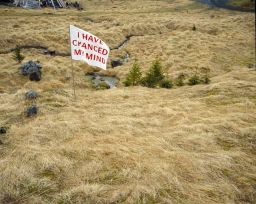 Studio 3B
1 Sept – 22 Nov 2009
Public intervention, artists books, language

The interdisciplinary work of visual artist Tine Melzer primarily focuses on the coded nature of language and aims to deconstruct the fears and desires bound to its imagery. Her theoretical and practical research challenges our behaviour and codes in language. Melzer studied visual arts and philosophy and has been a resident at the Rijksakademie van beeldende kunsten. She teaches at the Gerrit Rietveld Academie in Amsterdam and is currently reading for a PhD at the Planetary Collegium. Signs and sign-systems, codes and limits of systems, routine and misunderstanding, convention and rules, tautologies and mechanisms of doubt and failure are important departure points for her work. Questioning, what happens at the edge of image and text? What do common places in language, such as metaphors and proverbial expressions, look like? How can simple transformations into the visual convey shifts and ruptures of meaning?
Melzer bases her recent work on strategies of collaboration with colleagues from her own or neighbouring disciplines. This trans-disciplinary approach aims to establish methods of dialogue and language games in order for language 'to show itself'. Currently the visual work increasingly involves concepts of language 'as a social network': the notion of 'meaning as use' shifts to the 'users' themselves.
Supported by The Netherlands Foundation for Visual Arts, Design and Architecture and Prins Bernhard Cultuurfonds, Amsterdam.
The Process Room
Tine Melzer's work was shown in the Process Room, First Floor Galleries, from 28 October to 8 November 2009.
Click

here for more information
Related Links

www.tinemelzer.eu