Overview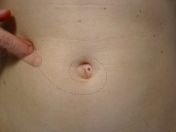 Studio 3A
July – August
Sculpture/photography/installation/mixed-media/ printmaking
Thessia Machado is a Brazilian artist living and working in New York.  Her work explores the integration of materials through installation and digital animations. Machado is curious about the properties of elasticity, weight, density and transparency. Ripped paper is accumulated in scalloped shapes that protrude from a wall, mushroom-like.  Bundles of wire, encased in vellum paper, bulge out and hang as strange bodies. Using an unglamorous set of materials enables an interchange with space. Machado received a BFA from Hunter College, New York.  Her work has been exhibited in New York, Florida, Amsterdam and Paris, and she has had residencies in Vermont and Florida. In 2005 Machado was a recipient of fellowships from the Bronx Museum and the New York Foundation for the Arts.
The Process Room
Machado's work was shown in the Process Room, First Floor Galleries, West Wing, IMMA, from 19 September to 1 October 2006.
Click

here for more information
Related links