Overview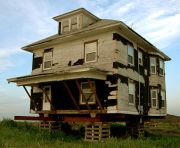 Studio 3B
July – August 2007
Sculpture/mixed media/public art
The core of Richard Saxton's practice derives from an analysis and interpretation of his surrounding landscape. The sculptures, public art projects, models and documentation materials that he creates are inspired by a reading of a particular place and relate to the arrangement of the land, people and structures within a particular landscape. Saxton's work has predominately developed in the USA, which has resulted in his reinterpretation of structures such as patchwork sheds, parking lot huts, water towers, semi-truck trailers and farm structures. In addition to his solo works, Saxton is the founder and director of the municipalWORKSHOP public art laboratory. Through a collective art-making model, the municipalWORKSHOP creates unique public art projects in collaboration with municipalities, community-based organizations and community members.  Please visit

www.municipalworkshop.org for more information.
Saxton's work has been exhibited internationally with recent exhibitions at the Ewing Gallery of Art and Architecture, University of Tennessee; Contemporary Museum, Baltimore, Maryland; Soap Factory, Minneapolis, and 840 Gallery in Cincinnati, OH.  Saxton's projects for 2007 include the Wall House Foundation in Groningen, Netherlands, and the Kohler Company Factory in Kohler, Wisconsin, USA.
Process Room
Richard Saxton's work was shown in the Process Room, First Floor Galleries, from 24 July – 5 August 2007.
Click

here for more information and images