Overview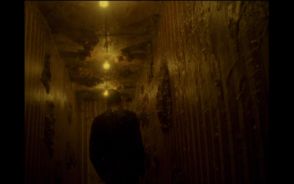 Studio 3A
Film/photography
For Paddy Jolley a project starts with the residue of sensations left by a situation or event. This impression suggests materials and then evolves through experiments that provoke further images and ideas. Each test is an exploration of what a material will do, how it feels, and how these factors combine within the perspective of a lens; sculpture built quickly of fabrics too fragile or environments created with components so unstable that they are only viable for a couple of hours or moments. The camera makes an imperfect, manipulated document, its omissions allow the possibilities of an intensified atmosphere, of stories beyond what is depicted, a range of meanings suggested but not specified. Where people are present their banal experience heightens the physicality of the environment and maintains an undercurrent of the comic. Ultimately it is the nature of the materials used in the work that provide the answers to the form and content of the imagery.
Recent group exhibitions include Into Me/Out of Me, PS1 Museum, New York; Kunstwerke, Berlin; MACRO, Rome 2006/7; Of Mice and Men, Berlin Biennial 2006. Recent solo shows include Asphyxia, San Luiis Potosi, Mexico 2006; Sugar, Roebling Hall, New York 2005; Sugar, Alexandra Saheb Gallery, Berlin 2005.
The Process Room
Paddy Jolley's work was shown in the Process Room in IMMA's first floor galleries from November 15th to November 25th 2007.
Click

here for more information