Overview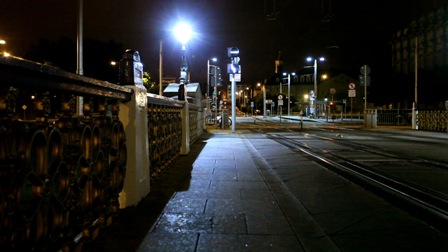 May – September 2010
Photography/film

Oswaldo Ruiz works with how light operates as an instrument which defines a place and can charge its meaning. Exploring the addition of artificial light to night scenes, often portraying simple and functional spaces on the outside of big cities, Ruiz illuminates the places he has chosen for their sense of enigma or ambiguity. Sometimes the scene is static, at other times people can be found in mid activity. Using large lights Ruiz focuses on a particular point to bring it forward from the pitch black surroundings, this exaggerates the common phenomena of light and pushes us, as the viewer, to explore and consider what we see, an activity which we participate in everyday that has the power to enlighten us but also deceive us. Is it nature, a contemporary ruin, a site of political or historical significance, a reality or a staged fiction? All of these possibilities arise in Ruiz's work.
Recent exhibitions include Record 02: A second glance, Museum of Contemporary Art of Monterrey, Mexico, 2009; ZONA MACO 09, Luis Adelantado, Mexico City, Mexico 2009; Intervention, Museo D. Diogo de Sousa, Braga, Portugal, 2009; Twilight Suite, Louise T. Blouin Institute, London, UK, 2008; 1st International Biennial Of Young Art of Moscow, Moscow Museum of Modern Art, Russia, 2008, and Videoteca de la Sala Rekalde, Bilbao, Spain 2008.
The Process Room
Click

here for Information and Images
Related Links
www.oswaldoruiz.com