Overview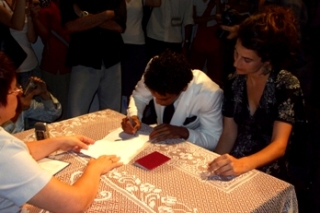 Núria Güell's work reformulates and deals with the limits of legality, the analyzes of ethics practiced by the Institutions that govern us detecting abuses of power committed through the established legality and hegemonic morality.
Flirting with the established powers, the art world privileges and the complicity with different allies, all of them are the resources on which Güell bases her artistic operations that, dissolved in her own life limits, are developed as disruptive tactics in specific contexts in order to subvert established power relations.
Güell has had solo shows in Croatia, Spain and Cuba. Selected group exhibitions include Prophetia, Fundació Joan Miró. Barcelona; Las variaciones Sebald, CCCB, Barcelona; Slow Future, CCA Zamek Ujazdowski, Warszawa, Poland; Really Useful Knowledge, MNCARS, Madrid, and The Museum of Arte Útil, Van Abbemuseum, Eindhoven, Netherlands.