Overview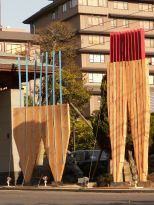 Studio 11
February – June 2007
Sculpture
Naomi Seki's work does not evolve around realistic sculptures but rather abstract ones, which contain her sculptural essence and individuality. Seki at times appears to be obsessed by a fascination with space. Her work reveals the attraction of space, this attraction becomes apparent when the space the sculpture is in becomes as much of an object of the composition as the actual sculpture itself. She composes materials against their nature and gravity and challenges the spaces they sit in with this juxtaposition. Many of her works compare the natural and manmade, organic and geometrical; the breathing and quiet between a tree and a sculpture.
Working mainly in wood, Seki has had solo exhibitions in Tokyo and Yokohama and has participated in numerous group shows, including the 3rd International Wood and Sculpture Symposium, Denmark. In 1994 she received first prize at the Modern Wood Carving Festival, Japan. Seki has worked in Ireland on numerous occasions and was granted a Japanese Government overseas study programme in Ireland in 1998. Seki has also designed and collaborated with a number of theatre and dance companies throughout her career.
The Process Room
Naomi Seki's work was shown in the Process Room, First Floor Galleries, and Studio 11, from 12 – 24 June 2007.
Click

here for more information