Overview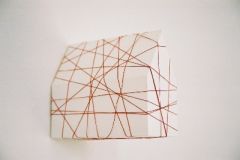 Studio 6A
Photography/sculpture
September to December 2004
In the past Mirjam Keune has worked mostly in the medium of photography, however during this residency she would like to experiment with sculpture and painting.  Reoccurring themes in Mirjam's work are belonging, displacement, disconnection and a sense of home. Originally from Holland Mirjam has been based in Ireland since 1991 and lives in Kilmainham. She works as an artist in the community on various projects ranging from primary school to adult education and feels that her studio and community work are linked and complement each other, both are of equal importance to her as an artist.
The Process Room
Mirjam Keune's work was shown in the Process Room, first floor, west wing galleries from November 2-14 2004.
Click

here for more information and images