Overview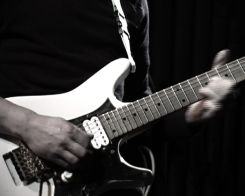 Studio 6A
April – September 2007
Photography/film/sculpture
Martin Healy's work explores the aesthetics and mediation of popular cultural mythologies and phenomena. Through the mediums of photography and video, Healy's explorations are examinations of the currency or belief structures that support each of the mythologies he studies. His work has examined various phenomena including an infamous tale of supernatural possession, cryptozoological phenomena (the study of mythological animals whose existence is unproven) and backwards masking (the phenomena of hidden messages in reversed music). In the context of his film and photographic explorations Healy regularly references the perceptual phenomena of 'pareidolia'; a psychological phenomenon where a vague or random stimulus (often an image or sound) is perceived as recognizable and familiar, suggesting there is more present in the imagery than is immediately apparent.
Recent solo exhibitions by Healy are Genesis 28:12 at DIVA, Miami 2006; Here be Monsters, Rubicon Gallery, Dublin 2004 and Looking for Jodie, Rubicon Gallery, Dublin 2003. Group exhibitions include Failure, Kilkenny Arts Festival 2006; Through the Looking Glass, Lewis Glucksman Gallery, Cork 2005 and Eurojet Futures Anthology 05, RHA Gallery, Dublin 2005.
Process Room
Martin Healy's work was shown in the Process Room, First Floor Galleries, from 28 June – 8 July 2007
Click

here for more information and images
Related Links

The Rubicon Gallery