Overview
Studio 13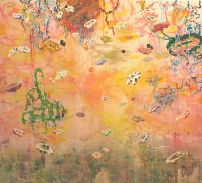 painting/drawing
May to September 2005
Mark McGreevy's work falls into a hybrid form of painting containing real, imagined, abstracted energetic compositions combined with images from a collective conscious to the personal, woven together to present a theme of modernity. His paintings become a battle with order, as much about the painted world coming to life, scratched out or simply erased and how that life insists on bursting out, refusing containment.
The Process Room
Mark McGreevy's work was shown in the Process Room, first floor West Wing Galleries from 2- 14 August 2005.
Click

here for more information