Overview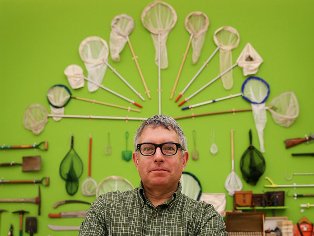 Internationally renowned artist Mark Dion's practice consistently questions the ways in which public and academic institutions shape our knowledge of the world, his work is often infused with humour and irony, but equally with an earnest concern for contemporary ecological issues. Dion's work focuses on the politics of national history collections, preservation, and extinction.
Since the early 1990s Dion has developed a dynamic and remarkably influential art practice to include sculpture, installation, photography, and print making, along with writing, teaching and institutional collaboration. He is the recipient of numerous prestigious awards including the Larry Aldrich Foundation Award (2001), The Joan Mitchell Foundation Award (2007), the Smithsonian American Art Museum's Lucida Art Award (2008) and most recently the 2016 Ruffin Distinguished Artist-in-Residence Award (2015).
Mark Dion is on a Production Residency and was nominated by curators Mary Conlon and Ian Russell for an exhibition at Ormston House, Limerick.