Overview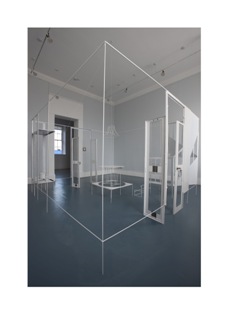 Studio 6A
February – April 2009
Installation, mixed media, curatorial

Laurence Kavanagh's work develops themes relating sculpture to film, playing on a constant shift between the human desire for both past and future, whilst fixing these moments to a specific location. The use of film in Kavanagh's work serves to create a framework from which to make three dimensional spaces out of flattened, constructed images where events all occur on top of one another. The sculptures made during this process balance between real and imagined space by the physical transformation of everyday objects coupled with the transference of memory through imagery. These moments, scenes and objects are not literally recreated, but continually overlay with one another, forming and re-forming new narratives as the viewer moves in and around the artwork.
Recent exhibitions and residencies include The Lonely House, supported by the Henry Moore Foundation, 2008; Cocheme Residency, Byam Shaw, London; A Phantom City, Scottish Sculpture Workshop Residency, 2008, and Transit, Group Show, British School of Rome, 2007. Curatorial Projects include The Music of the Future, Gasworks Gallery, London 2006; Wider Than the Sky, London, 2004, and Corpa Nova, London, 2003.
The Process Room
Laurence Kavanagh's work was shown in the Process Room, First Floor Galleries, from 19 to 29 March 2009. For further information on this exhibition please download the following document:

 Laurence Kavanagh: Process Room  (Word doc 2000 – 92KB)
Related Links

Laurence Kavanagh exhibition at IMMA on Flickr