Overview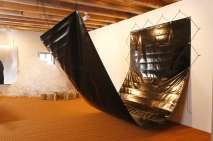 Studio 14
November 2005
Painting/sculpture/installation/mixed media/photography
Kirstin Arndt's work deals with the possibilities of being in time and space.  She is interested in the fruition of the 'image/picture'.  Her works are temporary statements of analysis and research about different aspects of the entity of artworks.  Arndt uses a wide variety of materials in her work usually reminiscent of construction materials and uses their form, colour, shape and texture to create boldly dramatic installations and compositions that display a sophisticated knowledge of line, surface, volume, space and time. Arndt divided her residency in two, initially coming during the month of November 2005 for a research visit and returning in 2006 to complete her stay at IMMA.
The Process Room
To read more information on Arndt's work shown in the Process Room from 5 – 17 September 2006.
Click

here for more information