Overview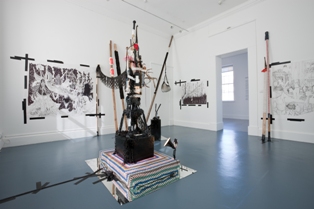 Studio 12
June – September 2009
Mixed Media, Installation, Curatorial, Practice, Drawing
Jonas Liveröd's practice focuses on drawing, sculpture, building site-specific installations, in which he utilises a notion of Scandinavian contemporary gothic and misguided energies. Liveröd works in a wide field of contemporary culture, not only producing artworks but also curating, employing the use of ephemeral medias, creating interactions between different contemporary cultural disciplines such as landscape architecture, design and music with the arts. Through manic large scale drawings, uncanny objects and site-specific constructions Jonas builds an atmosphere violent with seductive tension, punk ritual and uncontrolled energy.
Liveröd lives and works in Malmö, Sweden and has been active on the international art-scene since graduating from Academy of Fine Arts in the Netherlands in 1999. He has had exhibitions and projects at galleries and museums in Denmark, Germany, the United States, France and Vietnam. Some selected projects for 2009 will be at Ystad Art Museum, Sweden; Kristinehamn Museum of Arts, Sweden; Field Museum, Chicago; Pool Gallery, Berlin; Nordin Gallery, Stockholm; La Tangenta, France; Aarhus Kunstbyggning, Denmark and Thomas Wallner Gallery, Malmö, Sweden. His recent publication The Violence was released by Norwegian publisher NoCube in collaboration with the Danish design agency Re-public. He also works on collaborative projects with landscape architect Louise Andersson under the name Jolian&Luft.
The Process Room
Jonas Liveröd's work was shown in the Process Room, First Floor Galleries, from 31 August to 13 September 2009.
Click

here for more information and images
Related Links

 www.jonasliverod.com