Overview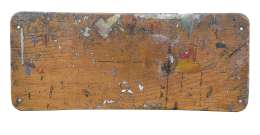 Studio 3A
March – June 2006
Photography/video/film/mixed-media/installation
Joanna Karolini's work is dependant on the character and ambience of the spaces in which she works or the found materials she uses. During her residency Karolini intends to develop further a drawing method, based on observation, highlighting and abstracting what is already on a chosen surface. She will explore and experiment with the possibilities of making drawings which already 'invisibly' and uniquely exist in our society – if one looks carefully – in the form of marks of wear and tear, cracks, incidental spillages or unnoticed poetic leftovers from our cultural activities.  The overall focus of Karolini's work is to create, in very simple ways, a 'magical moment' which adds significance to the given space and context but does not impose itself or overpower the existing ambience.  Karolini's intention is to achieve an effect by disturbing as little as possible in order to discover what is already there.
The Process Room
Joanna Karolini worked in the Process Room, each day from Tuesday 30th May until Friday 2nd June; the public were free to enter during this time. The finished work was then on view from Saturday 3rd June to Sunday 11th June.
Click

here for more information