Overview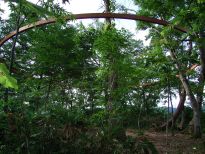 Studio 13
July – October
Installation/sculpture/film/video/
photography
Idetsuki Hideaki is concerned with the distance between human beings and their surroundings. He searches for the invisible within and surrounding people. If we can notice the invisible in our surroundings then we will have a boundless landscape in our minds. Idetsuki aims to reintroduce the notion of everyday existence, revealing this through the mundane and turning every undertaking into a new idea. His work reflects many aspects of Japanese life. Recent exhibitions include Akademie Schloss Solitude, Stuttgart, 2000; Gallery HIRAWATA, Kanagawa, 2004, and Gallery Musee F, Tokyo, 2004.
Process Room
Idetsuki Hideaki's work was shown in the Process Room from 12 October until 29 October 2006.
Click

here for more information