Overview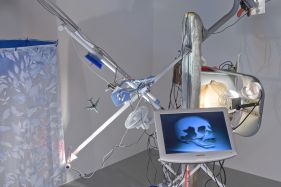 Studio 11
June – August 2009
Installation, Mixed Media, Video, Sculpture
The impacts of technological aesthetics on contemplation and the understanding of physicality are at the core of Ian Burns' practice. High and low culture are used with equal zeal in collisions of the phenomenological expectations of the art viewing experience, with similar expectations driven by cinematic and other technological clichés, leading to a reinvigoration of the power of material production and a revealing of contemporary judgments of production value.
Burns' work has recently been added to the collections of the Museum für Moderne Kunst, Frankfurt am Main; The Museum of Contemporary Art, Sydney, and The National Gallery of Victoria, Melbourne, as well as important private collections such as the Jumex Collection, Mexico, and the Berge Collection, Spain. Burns was recently awarded a Doctorate in Philosophy from Griffith University, Brisbane, Australia, and is a 2008 New York Foundation for the Arts Fellow in Video. Selected exhibitions include Indianapolis Museum of Contemporary Art, Indianapolis, 2009; Volta NY, Spencer Brownstone Gallery at Volta NY, 2008; Don't Try This at Home, Mother's Tankstation, Dublin, 2007; Re-Dis-Trans, Apex Art, New Museum, New York, 2006; and Greater New York, PS1 Museum of Contemporary Art, 2005.
The Process Room
Ian Burns work was shown in the Process Room, First Floor Galleries, from 4 to 16 August 2009.
Click

here for more information
Related Links



 www.ianburns.net

 Spencer Brownstone Gallery

 Mother's Tankstation