Overview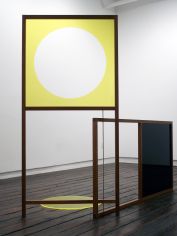 Studio 13
May – September 2007
Sculpture / film
In Giles Round work geometric shapes, minimal structures and monochrome planes are combined with objects such as plants, lights or three-dimensional texts. The relationships between these constituent parts together with their intended allegorical interpretations alter the seemingly formalist concerns of the work to partially reveal possible fictions, unspecified histories and scientific theories. The landscape of the city at night, filmic narratives and concepts of quantum physics are all suggested through the use of architectural materials, layers of cross-cultural referencing and coded geometric language. The reflective, often emotive undertone to Round's work often seeks not only to deal with grand overriding theories of everything but also heightened yet fleeting moments of existence such as isolation, emptiness, joy or hope. Based in London Giles Round has had recent exhibitions in London, New York and Istanbul.
Process Room
Giles Round's work was shown in the Process Room, First Floor Galleries, from 24 August to 2 September 2007.
Click

here for more information and images