Overview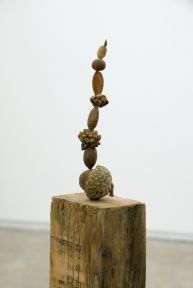 Studio 6A
7 June – 30 July 2009
Sculpture, Installation, Photography
Gareth Moore is known for his playful and conceptually rigorous works produced from his investigations of the world around him. In 2006 he undertook a project titled Uncertain Pilgrimage in which he traveled to various locations around the world performing a diverse range of activities such as baking and displaying bread at a neighbourhood bakery in Trento, Italy, visiting Richard Long in order to ask for a pair of his shoes and working on-site in an antiquarian bookshop in Cologne, Germany. These actions resulted in the production of ephemeral sculptures, drawings, photographs and texts that tell the story of Moore's in depth immersion into varied social spaces and Uncertain Pilgrimage was on view in 2008 at the Catriona Jeffries Gallery in Vancouver, Canada. Moore's practice investigates the history of travel writing and hobo culture and is committed to the reclaiming of materials. Moore's relational projects work to dislodge distinctions between art and life by positioning art in relation to human activity.
In 2007, Moore exhibited work at Murray Guy, New York; Galerie Daniel Buchholz as part of the European Kunsthalle project in Cologne, Galleria Civica di Arte Contemporaneo, Trento, and in the Door Slamming Festival in Berlin. In 2008 a solo exhibition of Moore's work was presented at the Witte de With, Rotterdam, the Netherlands. In the summer of 2009 Moore will participate in the National Gallery of Canada's group exhibition Nomads and an exhibition at Luettgenmeijer, Berlin.
The Process Room
Gareth Moore's work was shown in the Process Room, First Floor Galleries, from 20 to 30 July 2009.
Click

here for more information
Related Links

 Catriona Jeffries Gallery