Overview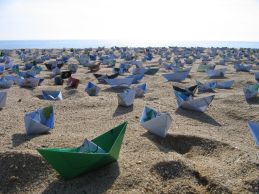 Studio 3A
November 2008 – March 2009
Mixed media, installation
Filip Van Dingenen's creative modes can consist of dream-like states, imaginary personages, situations and travels where the artist acts as a Baudelairian flâneur – he has set out to venture into new worlds by producing alternative mindsets. For the past few years Van Dingenen has traveled to zoos all over the world. He has visited museums of natural history, taxidermists, collectors and authorities and traced the former residents/remains of the Limburg Zoo. These travels and investigations resulted in ZOONATION which is a web project or virtual platform for multidisciplinary research and was followed by the eponymous publication.
Another series of projects by Van Dingenen's is realised through the non-profit organization Fantaman productions y Matelisto Contemporary Movements which was created in 2006 in Belgium in collaboration with the Argentinean dancer/choreographer Barbara Pereyra. The objectives of the organization are investigation/development in the fields of visual culture and performing arts and the production/realization of social, artistic and educative projects in Europe and South America.
Recent public installations include Snorkelzone, Van Dingenen & Pereyra, Leuven; Flota Nfumu, performance & drawing intervention, Van Dingenen & Pereyra, Centro Cultural España Bata, Equatorial Guinea, and a permanent public installation in Ganshoren, Brussels.
The Process Room

Filip Van Dingenen's work was shown in the Process Room, First Floor Galleries, from 4 to 15 February 2009.
Click

here for more information
Related Links

 http://www.fantaman.net/