Overview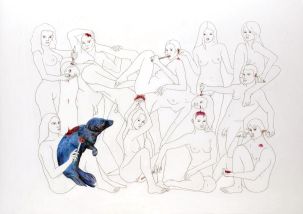 Studio 13
November 2006 – April 2007
Drawing/mixed media/installation
Fernanda Chieco's work sits somewhere between a medical textbook, a folio of classical drawings and the physical laboratory of a lunatic inventor.  Chieco investigates how the complexity of instruments and machines can overcome the simplicity of human representations.  In her drawings and installations human beings become systems, establishing connections with each other through subjects such as animals, food, everyday objects and instruments.   Chieco's interest in medical instruments, technology and objects explores the contradictions of their primal functions, to be used as devices that simplify and improve people's relationships with their outer environments.  Her explorative process often involves interaction with actors, life models and volunteers to develop interdependent documented systems that evolve into drawings, photographs and novel physical objects.
Fernanda Chieco is a graduate of Goldsmiths College, London and is represented by Galeria Leme, Brazil. Chieco will participate in a forthcoming group exhibition More Heat Than Light, Basement Gallery, Dundalk in June 2007.
The Process Room
Chieco's work was shown in The Process Room, First Floor Galleries, from 24 April to 6 May 2007.
Click

here for more information
Related Links

 Galeria Leme