Overview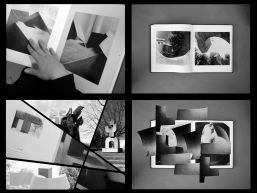 Studio 3B
November 2008 – March 2009
Writing, performance, mixed media, installation

Falke Pisano primarily works from an interest in the act of thinking and the possibilities of constructing and solving problems in the field of language. Her practice is grounded in an investigation into procedures of constructing and undermining internal systems of logic in language, writing and text. Pisano's work displays a clear concern with the existence and features of concrete objects, in particular those which are abstract. By transferring matters concerning objects to the field of sculptural practice she aims to bring to the surface some of the more obscure features of sculptures. Regarding the (abstract) sculpture as a collection of conditions making up its existence, Pisano works on formulating these conditions in non-object-based proposals, in search of a speculative language that will enable the construction of a sculpture without consideration for actual possibilities of centralized material existence. In return implementing thus discovered features of sculptures into the universal existence of objects, Pisano tries to find an answer to the question: How can an object exist in different conditions?
Selected solo shows by Pisano include Balice Hertling, Paris, and Ellen de Bruijne Projects, Amsterdam. Her work has also been shown at the Lewis Gluckman Gallery, Cork; Lisson Gallery, London; Kunstlerhaus, Stuttgart; Stedelijk Museum and De Appel, Amsterdam.
The Process Room
Falke Pisano's work was shown in the Process Room, First Floor Galleries, from 5 to 15 March 2009.
Click

here for more information