Overview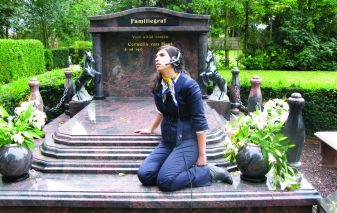 Studio 11
1 Oct 2009 – 28 Feb 2010
Installation, performance and drawing
Eliza Newman-Saul's work consists of videos, photographs, installations, writing and performances, or rather, communicative moments. The tone of the work is observational, educated and funny. By blending seemingly contradictory styles, texts and images, she weaves narratives that move between genres and voices. In a recent video, Nothing will Come of Nothing, Newman-Saul documents three seemingly unrelated events – a neighbour who screams through the wall every night, swearing and kicking; a grasshopper sculpture by a local artist, which people are regularly posing beside and photographing, outside her window; and a discussion of her narrator's own 9-month long hysterical blindness. These disparate stories map the artist's understanding of psychosis, loneliness and travel. In another performance she asks her mother to go to a graveyard in the USA while the artist travels to a Dutch graveyard. The gravesites host a discussion about being the end of the family line.
Newman-Saul has an upcoming solo exhibition at Artspeak, Vancouver, Canada. Her work has been exhibited in New York City, Amsterdam and Los Angeles. Her writing will appear in the upcoming Witte de With publication as part of the Cornerstones Lecture Series.
The Process Room
Eliza Newman-Saul's work was shown in the Process Room, First Floor Galleries, from 26 January to 7 February 2010.
Click

here for further information