Overview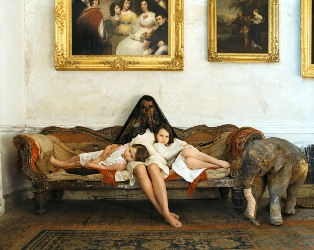 Studio 3B
October 2006 – February 2007
Photography
For French photographer Delphine Balley the camera is a tool, which allows her to see through reality and have access to fantasy.  The alterations she imprints on the world around her are the result of uneasiness; feelings and ideas one may experience when trapped in the familiar setting of humdrum life.  Delphine Balley's work is an attempt at capturing the huis clos atmosphere in which she was and still is immersed.  Her need to interrupt her growing-up is forcefully conveyed in her images.  In order to create her characters Balley draws from anecdotes, news articles and pays attention to details.  Her practice evolves on the search for new events, new personalities and new stories, which culminate in images that evoke a strange familiarity.
Balley has had recent exhibitions in Gallery Le Réverbère, Lyon (2005) and Contemporary Art Centre, Château des Adémar, Montélimar (2005).