Overview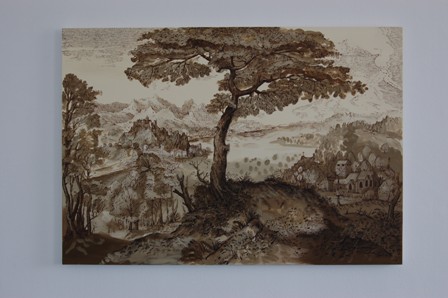 Studio 14
January – June 2009
Painting, drawing, installation
David Godbold was educated at Goldsmith's College, London. Having moved to Ireland at the beginning of the '90s, Godbold's work concentrated on the critical examination of the production, circulation and reception of visual imagery in both 'high' and 'low' culture. He works in a variety of media, but is best known for drawings and texts overlaid onto found materials, which involves a complex process of quotation and regrafting of disparately sourced imagery to produce witty, irreverent and iconoclastic commentaries on a range of topics.
Godbold participated in PS1/MoMA International Studio Residency Programme, New York, in 1999-2000, where his work developed its current image-text form and resulted in the development of large-scale installation wall drawings. He was also a Rome scholar at the British School in Rome, 2002, and his work is represented in the collections of Trinity College, Dublin, and IMMA as well as numerous private and corporate collections throughout Europe and the USA. Godbold has exhibited widely and has had recent solo shows in Dublin, Antwerp, Munich, New York and San Francisco. He is represented by Kerlin Gallery, Dublin.
The Process Room
David Godbold's work was shown in the Process Room, First Floor Galleries, from 29 June to 12 July 2009.
Click

here for information and images
Related Links

 Kerlin Gallery