Overview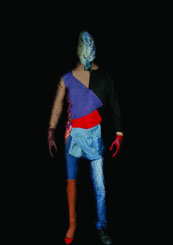 Studio 12
March – May 2008
Photography
Danny Treacy is a photographer whose practice evolves around a number of different projects all of which involve darkness, ambiguity, intimacy and defiance as endless sources of investigation. Treacy often searches for his images under the cover of night, emerging from a black background or under the cover of various garments. For one of his on-going series, Them, Treacy accumulates a collection of garments which he stitches together into a composite costume. He then wears his creations to create life-size self-portraits in which he stands facing the camera, covered completely in other people's clothes, as if emerging from the black void behind him. Tracey uses these garments to construct creatures whose distortion initially evoke vintage horror-movie aliens and monsters which become genuinely threatening because each piece of fabric then emanates something that happened to its former owner.
Danny Treacy holds an MA in Fine Art Photography from the Royal College of Art in London. He has won various awards including the inaugural Jerwood/ Portfolio Photography Award and the Photographer's Gallery Award. His work has been featured in numerous International exhibitions in Portugal, Finland, Spain, Edinburgh, California, London, France, Italy and Canada. His work has been extensively written about over the last few years. Treacy has a forthcoming solo show at The Photographer's Gallery, London, in summer 2008.
The Process Room
Danny Treacy's work was shown in the Process Room, First Floor Galleries, from 20 to 29 May 2008.
Click

here for more information and images
Related Links

 www.dannytreacy.com