Overview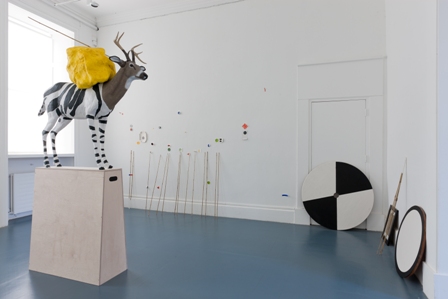 In her most recent projects Brigitte Jurack emphasises the importance of play as a prime activity enabling imagination to produce results as recognised by Friedrich Fröbel (1782-1852) who developed the concept of kindergarten. Jurack implements this through the transformation of materials and exploration of play in the context of space. Previous projects by Jurack include work that questioned the relationship between sculpture, photography, memory and place, in the context of the artist as an international globetrotter. This work researched the relationship between architecture, art and tourist, with Jurack travelling across the Baltic States, England and Northern Germany. Her writing of Irfaran- travel and work, 2007, and a collection of 30 sculptures critically reflect on the act of arriving as both tourist and worker and the rhetoric of architecture and regeneration.
Jurack has exhibited widely in the UK and internationally, exhibitions include Irfaran- travel and work, Globe Gallery, Newcastle, 2008; Next Up, Bluecoat, Liverpool, 2008; Klasse Kamp, Kunsthalle, Düsseldorf, 2006, and Red Paradigm, Gogol Festival, Kiev, 2009. Jurack has a Meisterschüler from the Kunstakademie, Düsseldorf, and an MA in Fine Art from Chelsea College of Art and Design, London. Alongside working as an independent artist Jurack is also a founder member of the artists group Foreign Investment.
Process Room
Brigitte's work was in the Process Room from 10 August to 22 August 2010.
Click

here for Information and Images
Related Links

 www.brigittejurack.com

 www.foreign-investments.com