Overview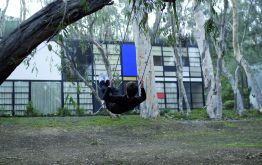 Studio 6A
Film, photography, mixed media

Aurélien Froment's practice involves the use and making of films, exhibitions and books through a diverse array of collaborations with artists, institutions, friends and numerous image manipulators. His works often interact with each other, crossing narratives borrowed from cinema, architecture and the history of entertainment. The documentary format plays a key role in his work, investigating the positions that inform our reception of this material. His approach blurs the frontiers between fiction and documentary, creating a space in which visual technologies and the gestures they produce are put into perspective. By influencing and combining with each other, the semantic power of images is explored poetically.
Born 1976, in Angers, France, Froment lives and works in Dublin and Paris. Recent solo shows include En Abrégé, FRAC Champagne-Ardenne, Reims, 2008; La Ligne dure, Palais de Tokyo, Paris, 2008; Acknowledgement, Motive Gallery, Amsterdam, 2008; Calling the Elephant, Project Arts Centre, Dublin, 2007; Of Any Actual Person, Living or Dead (with Ryan Gander), Store, London, 2007, and For Argument's Sake, an ongoing series of screenings.
The Process Room
Aurélien Froment's work was shown in the Process Room, First Floor Galleries, from 2 to 14 June 2009.
Click

here for more information and images
Related Links

 www.motivegallery.nl