Overview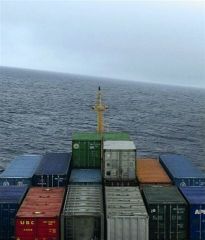 Studio 3B
May – July 2009
Photograph, Video, Installation
Often finding herself in locations as diverse as state of the art archives, to shipping yards, to examining the dimensions and cost of empty space above key development sites in cities, Ariane Pauls' installations explore spatial parameters in relation to principles of ordering and storing, thereby focusing on the phenomenological reading of architectural spaces. Other works by Pauls examine the meaning of borders. Supposedly a fixed parameter, borders are never as static as they may first seem. This perception of a border can refer to the constructed line between land and sea, i.e. the horizon, as well as political or commercial borders. The validity of rules, systems and a common day sense of perception are inherent in all of her works. Questioning their meaning through subtle interventions or manipulations, Pauls taps into an effective means to encourage people to think about the apparent naturalness of our surroundings. Most of Pauls' videos are presented as installations; this approach allows her to integrate the exhibition space and the spectator into the work itself. Her final presentations often rely heavily on the colour, form and structure of what she has recorded besides the social and political dimensions already present in her practice.
Recent exhibitions by Pauls include Artnews Projects, Berlin, 2008; Kunsthalle in Emden, Germany, 2007, and Kunstraum Kreuzberg/Bethanien, Berlin, 2007.
The Process Room
Ariane Paul's work was shown in the Process Room, First Floor Galleries, from 16 to 28 June 2009.
Click

here for more information
Related Links

www.arianepauls.com