Overview
 Antonia Low takes the means of expression in her art from interaction with the environment as a consciously applied instrument. Her installations make reference to spatial circumstances. Through re-evaluations, disclosures, and allocations, Low thematises their different aspects and finds new points of emphasis. She pursues the overlap of different layers of temporality and spatiality and brings the transitory substance of spaces to light.
Antonia Low was born in 1972 in Liverpool, lives and works in Berlin. She studied at the Kunstakademie Münster, and two years later was awarded the degree Master in Fine Arts from Goldsmiths College, University of London.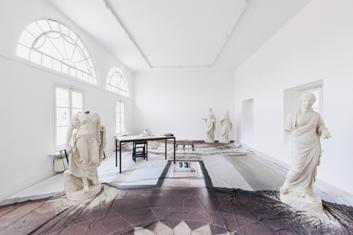 Low created large spatial installations at the K21/ Kunstsammlung NRW, Düsseldorf 2014; Kunstmuseum Bonn 2014; Kunstverein Braunschweig 2014; Städtische Galerie Nordhorn 2011; Stadtgalerie Kiel 2008; and Saarlandmuseum, Saarbrücken 2006. Venues at which her work has been shown include: Deutsches Haus, New York 2014; FRAC Nord pas de Calais, Dunkirk 2013; MUDAC, Lausanne 2010; Den Frie Udstillingsbygning, Copenhagen 2006; Westfälisches Landesmuseum, Münster 2006; Kettle's Yard, Cambridge 2003; and Kunstverein der Rheinlande & Westfalen, Düsseldorf 2000.
 Antonia Low has received numerous honours, including the Bonner Kunstpreis 2013, project grants by Kunstfonds 2015, Kunststiftung NRW 2003, 2008, and a Young Artist Award by the GWK – Gesellschaft zur Förderung Westfälischer Kulturarbeit e.V. 2003. Three monographs on her work have been published: Der verlorene Raum/Pax und Concordia, wartend (Dortmund: Kettler Verlag, 2014, Inventar (Berlin: The Greenbox Verlag, 2012) and Low Deluxe (Berlin: Argobooks, 2009), with texts by Stefan Berg, Alexandra Heimes, Thomas Hirsch, Laura Mansfield, Veronika Olbrich, Nils Plath, Ludwig Seyfarth, Andreas Schlaegel, Julia Gwendolyn Schneider, Hilde Teerlinck, Gergana Todorova and Hilke Wagner.
Related Links
Image on this page: Pax und Concordia, wartend 2014, Kunstverein Braunschweig
photo: Fred Dott
Main Image: Der
verlorene Raum, 2014, Kunstmuseum
Bonn
photo:
Carsten Gliese