Overview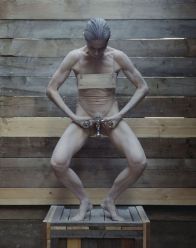 Studio 11
September – December
Performance/installation/video/original audio
Anne Seagrave is a visual artist specialising in movement based live art performance, video installation, original audio and interdisciplinary practice. Seagrave has presented her work for over 20 years in many diverse formats and venues such as site specific durational performances, exhibitions for galleries, live art festivals and events, and for a range of unconventional spaces. Through her live presentations Seagrave aims to widen the public definition of art away from the production of objects for sale, and toward recognition of the value of creative intervention, response, solution and dialogue. In 2004 Seagrave was awarded an Arts and Humanities Research Committee Fellowship at the University of Ulster in Belfast which is enabling her to conduct parallel research along with her practice into the artist's use of self image.
Process Room
Anne Seagrave's work was shown in the Process Room form 1 November until 12 November 2006.
Click

here for more information