Overview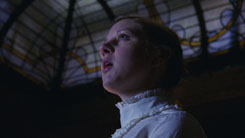 Studio 3B
April – September 2008 
Writing, film
Anita Di Bianco's films take up, modify and re-work existing and re-imagined characters from cinema and literature – excerpting and adapting the texts of Gertrude Stein, of Jean Gênet's play The Maids, and several of the works of Marguerite Yourcenar.  Her work involves the imitative act, a taste for the possession and expulsion of narratives, the appropriation of familiar texts and writing styles, using widely varying kinds of sources – from literary, theatrical, and historical texts to oft-quoted cinematic clips and thematic references.
Di Bianco's videos and films have been shown at PS1 and at the Carnegie Arts Center in New York; The Rotterdam Film Festival, Les Laboratoires d'Aubervilliers, Paris; The Salzburger Kunstverein, Cinematexas film festival, Austin; Galerie Elisabeth Kaufmann, Zürich and doggerfisher, Edinburgh, among other venues.  She has screened her work and lectured on the politics of re-makes at the Midwestern Art History Conference, at the seminar Diffusion and Confusion at Konstfack in Stockholm, at Klartext! The Status of the Political in Contemporary Art in Berlin, at the Society for Cinema and Media Studies in London, and at Yale University's film school.
The Process Room
Anita Di Bianco's work was shown in the Process Room, First Floor Galleries, from 24 July to 3 August 2008.
Click

here for more information and images
Related Links

 www.anitadi.net