Overview
Studio 6A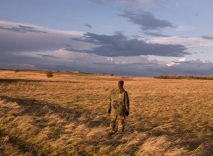 March 2008 
Action, sculpture, photography, video,  installation
Almut Linde´s practice investigates the formative processes of social systems and how they affect the individual´s ability to act within such systems. By carrying out actions in tightly controlled social systems (e.g. the military, a psychic ward, a factory), Linde extracts significant forms from local knowledge. She uses individual deviations from the intended discourse to expose the systems´ rigidity, and at the same time show individuality, which is the basis for the elements social systems are made of. For her work Dirty Minimal #33.7 – Military Order to Attend Art Lecture, Linde held a lecture to which military staffs were ordered to attend which lead to a body of participatory works with the military. Linde developed her practice working in observation spaces which are usually considered failures, or, at best, disturbances. By paying attention to unexpected results, she extracts forms which facilitate new perceptions. In the collective Linde Ludeña Sierra she initiated the practice of working independently within a common field and she has since expanded this practice to working with non-artists.
Recent exhibitions include Nunnery Gallery, London (GB), and the Brno House of Arts, Brno (CZ). Upcoming exhibitions include Hamburger Kunsthalle, (D), and the National Gallery, Prague (CZ). Almut Linde has been awarded first price of Stiftung Kunstfonds: the HAP-Grieshaber prize 2008 from the VG Bild-Kunst, Bonn.
The Process Room
Almut Linde's work was shown in the Process Room from 16 to 28 September 2008. 
Click

here for more information
Related Links

 www.almutlinde.com