Overview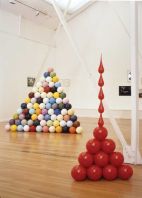 Studio 3a
June – August 2007
Sculpture/drawing/photography
A sense of circularity impregnates the work of Alberto Peral – an idea that, although concentrating the viewer around a single point from which everything emerges, also offers the viewer the possibility of embracing, surrounding or narrowing the sense of reality. From the beginning of his career, Peral has been involved in the production of work that has extended the suggested simplicity of its volumes, instead of concentrating on a single point in his sculptures, there are elements that grant to their production a mystery through which the spectator has the possibility of connecting with his proposals; they imply a suggestive symbolic potential and are no longer mere sculptures, manufactured for the delight of the senses. From a sensual point of view, Peral's drawings can be interpreted like notes of a diary born to freeze the sensations of the artist in front of an object and of which the artist shows his soul to us and his photographs are a protection and preservation of the fleeting moments impossible to capture with the outline of a drawing. Peral's works relate to the creation of the universe and, by extension, humanity, nature, life and death.
The Process Room
Alberto Peral's work was shown in the Process Room, First Floor Galleries, from 10 – 22 July 2007.
Click

here for more information
Related Links

 www.artnet.com/artist/170126/alberto-peral.html