Overview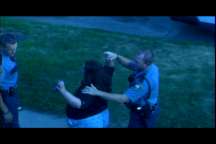 Studio 6A
June – August 2006
Sound art/installation/performance
Abinadi Meza is interested in using ephemeral media such as sound to create transformative spaces and unusual situations that suggest new possibilities, readings and methods. Meza's work is often impermanent and performative in nature, drawing either formally or conceptually from a range of artistic practices including Butoh, Arte Povera and sound art. During his residency Meza intends to develop sound installations that explore the psychoacoustics of the museum, its immediate surroundings, and the city. In these soundscapes Meza hopes to capture and combine the familiar with the unexpected.   Meza has exhibited in USA, Brazil, Palestine and Sweden.  Future projects include a group show in the Walker Art Centre in Minneapolis.
Process Room
Abinadi Meza's works was shown in the Process Room, first floor West Wing Galleries, IMMA  from 28 July until 13 August 2006.
Click

here for more information