ROSC 50 – 1967 / 2017 | Fifty years following the start of the Rosc Exhibitions
22/05/2017
ROSC 50 – 1967 / 2017
Fifty years following the start of the Rosc Exhibitions
IMMA and NIVAL revisit these landmark exhibitions of contemporary art in Ireland.
Opening Display 5 May – 18 June 2017 | IMMA Project Spaces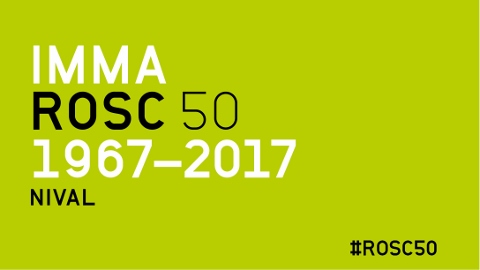 2017 marks the 50th anniversary of the first Rosc exhibition in Ireland. These pivotal, and often controversial, exhibitions were the first major series of large scale international art exhibitions in Ireland, at a time when Ireland did not have a National Museum of Contemporary Art. Rosc took place approximately every four years between 1967 and 1988, with IMMA being founded in 1991.
For many visitors, Rosc was the first time they would have been introduced to work by international artists such as Pablo Picasso, Roy Lichtenstein, Mark Rothko, Cy Twombly, Agnes Martin, Laurie Anderson among others. Indeed, from 1967 the Department of Education enabled all schools to take a day out of school to visit the Rosc exhibitions, a visionary policy which had a significant impact on future generations of artists and arts audiences.
There were several landmark moments across the exhibitions including the first performance of Rest Energy by Marina Abramoviæ and Ulay in Rosc '80, which involved Ulay holding a steel arrow pointed directly at Abramovic's heart for four minutes.
But there were also many controversies associated with Rosc during its 21 years, such as the movement of ancient monuments for the 1967 Rosc, the exclusion of Irish artists from the first two Rosc exhibitions and the ongoing debate about the representation of Irish art and artists in Rosc, not to mention the under representation of female artists.
ROSC 50 is presented in collaboration with NIVAL (the National Irish Visual Art Library) and the opening display at IMMA provides an intriguing, detailed, and contextualised look at these controversial and pivotal Exhibitions. Visitors can engage with the history of Rosc through a rich presentation of archive materials including catalogues, photographs, news footage, and exhibition reviews and reports, alongside first-person accounts.  Visitors are encouraged to consider Rosc's intentions, impact and legacy.
Director Sarah Glennie commented; "We are delighted to collaborate with NIVAL on this important yearlong project which will investigate the landmark series of ROSC exhibitions. The project will look beyond an art historical reading of the art works included in the exhibitions to consider the context in which these ambitious and daring exhibitions took place – how did they happen, what was the local and international context they operated in, who came and what did people think?
ROSC redefined Ireland's understanding of contemporary visual art and so it is very timely that on the occasion of the 50th anniversary of the first exhibition IMMA and NIVAL delve into the extraordinary archive material held at NIVAL, RTÉ and the Irish Photographic Archive to consider with our audience the legacy of these bold statements of the contemporary to Irish culture today."
Informed by extensive research undertaken by IMMA Curators alongside Dr. Brenda Moore McCann, the exhibition features a timeline of key national and international historical events, enabling the visitor to contextualise Rosc in terms of what was happening in Ireland and across the world at that time. There is also a dedicated screening area for film footage recovered from the RTÉ Archives, among other sources, where one can view news footage of the day accompanied by still photographs. One of the most striking moments from the archives captures Taoiseach Charles J. Haughey confronting his likeness in From the Animal Farm: Charles J. Haughey, by Tim Rollins and K.O.S. in 1988. 
Where you there? Visitors are encouraged to share their experiences and memories of Rosc both in person and online throughout 2017.
The public are encouraged to share their memories of Rosc by discussing their personal experiences or memories of the exhibitions both online and offline. This process of capturing the audience's reaction to Rosc will then re-enter the archive, adding the audiences' voice to this rich archive for future generations.  Visitors are called to contribute to this initiative online by using the hashtag #ROSC50 on social media or by submitting personal stories, testimonials and photographs to [email protected].
This opening display is available for viewing until 18 June 2017 and will help visitors to become familiar with Rosc, before exploring the facts, rumours, myths and realities through a series of talks and discussions hosted by IMMA and NIVAL across the year.
There will also be a ROSC50 artist commission and a major symposium in the Autumn, further details of which will be announced shortly.
ENDS
For further information, and images, please contact: Meghan Elward Duffy [email protected] / +353 (0)1 612 9920/22
Additional Notes for Editors
ROSC 50 – 1967 / 2017 is open until 18 June 2017 in the ground floor Project Spaces of IMMA. The IMMA/Nival Rosc Programme will continue throughout the year with a busy programme of talks and other events to explore the Rosc exhibitions in context, encouraging archival research and constructive dialogue by the public. ROSC 50 will conclude with a symposium at IMMA in the Autumn. See www.imma.ie for more details.
Admission:  Free and open to the public during normal operating hours.
Museum opening hours are as follows:  Tues to Fri 11.30am – 5.30pm / Sat 10am -5.30pm / Sun and Bank Holidays 12 – 5.30pm. Closed Mondays (Except Bank Holidays)