New Projects from Amanda Coogan, Emma Haugh, Christodoulos Makris, Nathan O'Donnell and Suzanne Walsh announced for IMMA/NIVAL ROSC 50
26/07/2017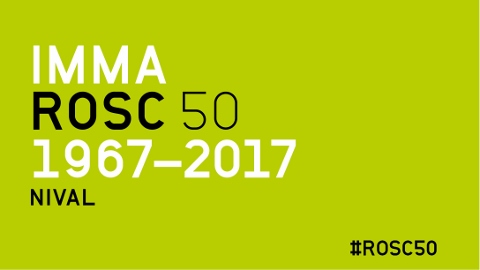 IMMA and NIVAL have announced details of the artists and collaborators who have been selected to create new projects in response to ROSC 50; a collaborative research project from both organisations to mark the 50th anniversary of the first Rosc exhibition in 1967. Through a programme of talks, events, research commissions and exhibitions ROSC 50 revisits the Irish art historical account of these landmark visual art exhibitions in Ireland; exploring their legacy and meaning in the present day.
The year-long project examines the ambition, reception, controversies and legacy of the Rosc exhibitions, which took place in Ireland between 1967 and 1988 and which had a significant impact on the development of contemporary art in Ireland.
An important part of ROSC 50 is to uncover new research and new perspectives from both artists and audiences today, and to record these for future generations.  Audiences are being invited to submit their testimonials of their experiences of Rosc, which will in turn be folded back into the NIVAL archive, while artists Amanda Coogan, Emma Haugh and a collaborative project comprising Christodoulos Makris, Nathan O'Donnell and Suzanne Walsh have been selected from an invited call to undertake research projects in response to Rosc. Each will take as a starting point the material relating to Rosc in the NIVAL archive, and take into account of themes relating to the ambition, memory and legacy of Rosc and also the critical and public engagement with the exhibitions.
The period of research is from July to December 2017 and will be informed by the ongoing ROSC 50 programme, including the current presentation of archival material relating to Rosc in IMMA's Project Spaces, open until July 31st.
ROSC50 Research Commissions
Amanda Coogan is proposing to research the live performances in Rosc '80 with a view to appropriating and folding these live, unstable works into a newly imagined performance work. Rosc '80 was the first Rosc to include performance and live art, and 14 artists, including Ulay and Marina Abramoviæ, Marta Minujin, Tim Hennessy, Laurie Anderson, Nam June Pai and Nigel Rolfe, were invited to create site specific of live performance works in Dublin.
Coogan has said about the project: 'I claim this research strategy as one that is open to the possibility of performance itself – that is to say performance works that are in a constant state of becoming.'
Emma Haugh is proposing to develop Reading Troup #11  'the relations of power involved in enunciation and reception' (Teresa de Lauretis) reading the Rosc archive via a queer-feminist, post-colonial critique of minimalism and post modernism. The Reading Troup is a continuing and ever-developing practice of performative and theatrical reading techniques. Incorporating improvisation, collage, fortune telling, psychogeography and collective cut-ups.
Haugh comments "What is most intriguing about archives is what isn't there. Those collected fragments that can be found within the archive tell (if looked at from a certain perspective) of that which is missing. Documents from the Rosc archive tell much about Irish art historical struggles around national identity, status, ambition and representation. I propose to consider the ambition and legacy of Rosc through performative cross-readings with critical texts and other research materials as a means of speaking back to and with the archive in order to appear that which is not immediately present."
Christodoulos Makris, Nathan O'Donnell and Suzanne Walsh are proposing, Inflammatory Speech;: a research programme and subsequent performative event in response to Rosc. It is devised as a collaboration between three practitioners working at the intersections of contemporary art, poetry, and writing. Inverting Rosc's subtitle – 'the poetry of vision' – they propose an alternative 'vision of poetry.'
They will create a repository of material from the Rosc archive from which they will shape several original poetic texts for performance. This may take the form of a multivocal or polyphonic performance; a sort of choral call-and-response with poetic texts and music overlaid to create a meshwork of sound.
In their submission the collaborators stated: "Responses to Rosc were (and are) marked by hostility, bafflement, defensiveness; languages of resistance but also of territorialism and the fear of the unknown, the troubling, the provocative … It is to this context, rather than the content, of Rosc that we wish to respond, creating work that explores and amplifies the exhibitions' reception, rather than the exhibitions themselves per se."
Closing Discussion
In this, the final week of the ROSC 50 | 1967-2017 display at IMMA, there will be a closing event featuring a series of reflections on the Rosc exhibitions and their impact on the visual arts in Ireland. Speakers include Patrick J. Murphy, former Chairman of Rosc; Matt Packer, Director of EVA International; Jonathan Carroll, writer and independent curator; and Sarah Glennie, Director of IMMA.
This closing discussion is free of charge, and takes place from 3pm – 5pm on Friday 28 July 2017. It is a drop in event, no booking required.
ENDS  
For further information, and images, please contact: Meghan Elward Duffy [email protected] / +353 (0)1 612 9920/22
About the Artists
Amanda Coogan is a visual artist based in Belfast practicing in the arena of performance art. Her works encompass a multitude of media: objects, text, moving and still image, all circulating around her live performances. Her expertise lies in her ability to condense an idea to its very essence and communicate it through her body. She completed her doctoral thesis on live durational performance art in 2013 at the University of Ulster. She has exhibited and performed her work widely, including the Broad Museum, Michigan; The Museum of Fine Arts, Boston; Arts Space, New York; The Niemeyer Centre, Aviles; The Benaki Museum, Athens; The Whitworth Gallery, Manchester; and The Irish Museum of Modern Art and the Project Arts Centre.
Emma Haugh is a visual artist and educator based in Dublin and Berlin. She is interested in representations of desire and the examination of cultural structures (architectural, linguistic, spatial, educational) from queer-feminist and post-colonial perspectives. She works with performativity, publishing, installation and collaboration towards developing and proposing spaces of potential and alterity.
Christodoulos Makris is one of Ireland's leading contemporary explorers of experimental poetry. His current practice concerns itself with public-private language, and multiple/shifting personas, enabled by digital communication. In 2016, he was named as one of Poetry Ireland's 'Rising Generation' poets. He is co-curator of Dublin's multidisciplinary event series Phonica and the poetry editor of gorse and associated imprint gorse editions.
Nathan O'Donnell is a writer of fiction and criticism, and co-editor of the journal of contemporary art criticism Paper Visual Art. He has published in The Dublin Review; New Irish Writing; The Manchester Review; gorse journal; The Irish Times; Apollo; this is tomorrow; and Architecture Ireland among others. He is editing the reissue of the radical avant-garde magazine, Blast, for Oxford University Press, and he has written and presented widely on magazine histories. He teaches as part of the MA Art in the Contemporary World programme at NCAD.
Suzanne Walsh is a cross-disciplinary artist currently in residence in Fire Station Artist Studios. She works across art, writing and music, often combining the forms or collaborating with other artists. She has published in gorse journal, on Fallow Media and in Circa among others. She performs both with text and music and was part of a recent commission in the Lab Gallery A Different Republic. She is part of sound group 'Hissen' who performed in IMMA in 2016. Her work draws on editing, poetics, human/animal interactions and questions on consensus reality.
About ROSC 50
2017 marks the 50th anniversary of the first Rosc exhibition in Ireland. These pivotal, and often controversial, exhibitions were the first major series of large scale international art exhibitions in Ireland, at a time when Ireland did not have a National Museum of Contemporary Art. Rosc took place approximately every four years between 1967 and 1988, with IMMA being founded in 1991. Fifty years following the start of the Rosc Exhibitions IMMA and NIVAL are revisiting these landmark exhibitions of contemporary art in Ireland.
The opening display, ROSC 50 – 1967 / 2017 is open until 31 July 2017 in the ground floor Project Spaces of IMMA. The IMMA/NIVAL Rosc Programme continues throughout the year with a busy programme of talks and other events to explore the Rosc exhibitions in context, encouraging archival research and constructive dialogue by the public. ROSC 50 will conclude with a symposium at IMMA in the Autumn. See www.imma.ie for more details.
Admission:  The exhibition is free and open to the public during normal operating hours.
Museum opening hours are as follows:  Tues to Fri 11.30am – 5.30pm / Sat 10am -5.30pm / Sun and Bank Holidays 12 – 5.30pm. Closed Mondays (Except Bank Holidays)