Matheson announces ground-breaking three-year commitment to New Art at IMMA
01/05/2015
New Art at IMMA, proudly supported by Matheson, will showcase best emerging talent
Matheson and The Irish Museum of Modern Art (IMMA) have today announced a major three-year partnership supporting New Art. The relationship will see Matheson supporting approximately ten exhibitions per year at IMMA.
The first exhibition to be supported under this innovative new partnership is a solo exhibition by UK artist Karla Black, regarded as one of the pioneering contemporary artists of her generation. A Turner Prize nominee in 2011, Black's work draws from a multiplicity of artistic traditions from expressionist painting, land art, performance, to formalism. Black questions the rigours of sculptural form and her large-scale sculptures incorporate modest everyday substances, along with very traditional art-making materials to create abstract formations.  For her upcoming exhibition, supported by Matheson, Black has created seven new site-specific sculptures, unique to the IMMA exhibition.
Other Matheson-sponsored New Art projects in 2015 include Etel Adnan, What We Call Love, Chloe Dewe Mathews and Grace Weir. The commitment will enable the commissioning of new work in 2015; a full list of artists will be announced in late May.
IMMA is committed to supporting remarkable emerging artists to make exciting new work through a dynamic series of commissions, projects and group exhibitions. IMMA curators work closely with some of the most exciting and internationally significant young artists working today, artists like Tino Sehgal, Duncan Campbell, Haroon Mirza and Isabel Nolan, to support new developments in their work. New Art at IMMA, proudly supported by Matheson will allow IMMA to continue to support this vital work in a strand of programming that recognises and nurtures new talents, new thinking and new forms of exhibition-making.
Speaking at the announcement today, IMMA Director Sarah Glennie stated: "IMMA is one of Ireland's leading cultural institutions and a key source of creativity and inspiration for visitors of all walks of life. One out of every eight IMMA visitors experiences visual art for the first time through their IMMA visit and it is hugely important to us to create an enjoyable and engaging experience of contemporary art for everyone.
Above all else we are committed to supporting artists' work. Artists tell us about ourselves, they challenge us; they create space for difference, debate and the imagination. New Art at IMMA, proudly supported by Matheson, allows the Museum to continue to support the work of new and emerging artists. Together with innovative partners like Matheson we can work to support the development and enjoyment of contemporary art in Ireland."
Liam Quirke, Managing Partner at Matheson welcomed the partnership with IMMA today stating: "Investing in talented lawyers and creating an environment which allows them to realise their potential are core values of our firm.  We are delighted therefore to partner with IMMA who share our values and hope that our support of New Art at IMMA will allow the Museum to expand its investment in and nurturing of new and emerging talent in modern art."
Karla Black is at IMMA until 26th July 2015. Admission is free of charge. Please visit www.imma.ie for more details.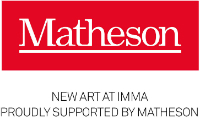 For further information, and images, please contact Patrice Molloy [email protected] +353 (0)1 612 9920 or [email protected]
Additional Information for Editors
About Matheson
Matheson is the law firm of choice for international companies and financial institutions doing business in and through Ireland. The firm's clients include the majority of the Fortune 100 companies. It also advises 7 of the top 10 global technology brands and more than half of the world's 50 largest banks. Matheson is headquartered in Dublin and also has offices in London, New York and Palo Alto. More than 600 people work across the firm's four offices, including 75 partners and tax principals and over 400 legal and tax professionals.
About IMMA
IMMA (The Irish Museum of Modern Art) is Ireland's national institution of contemporary and modern art. Based in its home at the Royal Hospital Kilmainham, IMMA is celebrated for its vibrant and dynamic exhibition and education programmes. IMMA is the home of the national collection of modern and contemporary art. Now numbering over 3,500 works, we ensure that this collection is accessible to visitors to IMMA and beyond, through exhibitions, collaborations, loans, touring partnerships and digital programmes.