Law firm Matheson commits to three-year partnership supporting new art at IMMA
27/05/2015
New Art at IMMA, proudly supported by Matheson, will showcase best emerging talent
Law firm Matheson and the Irish Museum of Modern Art (IMMA) have confirmed a major three-year partnership supporting New Art. The relationship will see Matheson supporting approximately ten exhibitions per year at IMMA and the commitment will enable the commissioning of new work in 2015.
The first exhibition to be supported under this new partnership is a solo exhibition by Scottish sculptor and Turner Prize (2011) nominee Karla Black, whose exhibition featuring seven new site-specific sculptures runs at IMMA until 26 July 2015.
Upcoming Matheson-sponsored New Art at IMMA projects in 2015 include exhibitions by Lebanese artist Etel Adnan; British photographer Chloe Dewe Mathews; Irish artist Grace Weir; and What We Call Love, an exhibition of Surrealist works, alongside key conceptual and contemporary pieces, exploring the 20th century notion of love at the heart of which will be a series of new commissions supported by Matheson by artists including Seamus Nolan, Lucy Andrews and Jim Shaw.
IMMA is committed to supporting remarkable emerging artists to make exciting new work through a dynamic series of commissions, projects and group exhibitions. New Art at IMMA, proudly supported by Matheson, will allow IMMA to continue to support this vital work in a strand of programming that recognises and nurtures new talents, new thinking and new forms of exhibition-making.
Speaking at the announcement today, IMMA Director Sarah Glennie stated: "IMMA is one of Ireland's leading cultural institutions and a key source of creativity and inspiration for visitors of all walks of life. One out of every eight IMMA visitors experiences visual art for the first time through their IMMA visit and it is hugely important to us to create an enjoyable and engaging experience of contemporary art for everyone.
Above all else we are committed to supporting artists' work. Artists tell us about ourselves, they challenge us; they create space for difference, debate and the imagination. New Art at IMMA, supported by Matheson, allows the Museum to continue to support the work of new and emerging artists. Together with innovative partners like Matheson we can work to support the development and enjoyment of contemporary art in Ireland."
Liam Quirke, Managing Partner at Matheson welcomed the partnership with IMMA today stating: "Investing in talented lawyers and creating an environment which allows them to realise their potential are core values of our firm.  We are delighted therefore to partner with IMMA who share our values and hope that our support of New Art at IMMA will allow the Museum to expand its investment in and nurturing of new and emerging talent in modern art."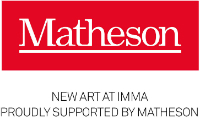 For further information, and images, please contact Patrice Molloy E: [email protected] T: +353 (0)1 612 9920 or E: [email protected]
Additional Information for Editors
About Matheson
Matheson is the law firm of choice for international companies and financial institutions doing business in and through Ireland. The firm's clients include the majority of the Fortune 100 companies. It also advises 7 of the top 10 global technology brands and more than half of the world's 50 largest banks. Matheson is headquartered in Dublin and also has offices in London, New York and Palo Alto. More than 600 people work across the firm's four offices, including 75 partners and tax principals and over 400 legal and tax professionals.
About IMMA
IMMA (The Irish Museum of Modern Art) is Ireland's national institution of contemporary and modern art. Based in its home at the Royal Hospital Kilmainham, IMMA is celebrated for its vibrant and dynamic exhibition and education programmes. IMMA is the home of the national collection of modern and contemporary art. Now numbering over 3,500 works, we ensure that this collection is accessible to visitors to IMMA and beyond, through exhibitions, collaborations, loans, touring partnerships and digital programmes.
New Art at IMMA, proudly supported by Matheson Programme
Karla Black
1 May – 26 July 2015
Karla Black is regarded as one of the pioneering contemporary artists of her generation. A Turner Prize nominee in 2011, she practices a kind of lyrical autonomous sculpture, influenced by psychoanalysis, feminism and its impact on visual art. Black's work draws from a multiplicity of artistic traditions from expressionist painting, land art, performance, to formalism.  Black questions the rigors of sculptural form and her large-scale sculptures incorporate modest everyday substances, along with very traditional art-making materials to create abstract formations.
The site-specific exhibition at IMMA will present Karla Black's extraordinary creative output, revealing the artist's constant challenges to prevailing concepts of sculpture. Her interest in process has led her to expand the possibilities of whichever material she employs; from plaster, polythene, chalk dust and powder to eye-shadow, nail varnish, fake tan or toothpaste. Black chooses her media for their tactile aesthetic appeal: the familiarity of the texture of cellophane or the scent of cosmetics bridges the experience of tangible matter with the intimacy of memory of the subconscious. Black's working process is intensely physical and this energy is conveyed through works that emphasise her free, experimental working method, combined with the editing, muting and reigning in of careful aesthetic judgment. Each element in her assemblages interconnects physical, psychological, and theoretical stimuli which are both self-referential and relate to art as a wider-world experience.
Etel Adnan
5 June – 13 September 2015
Now in her 90s, Adnan is an extraordinary creative voice and force of artistic renown. She moves freely between writing and art, poetry and tapestry and all aspects of her creative output will be reflected in the exhibition. A selection of Adnan's enigmatic and colourful oil paintings will showcase her use of rapid, thick strokes representing the landscapes of California and the Mediterranean Sea. These works will appear alongside a series of delicate leperellos that fuse Adnan's parallel practice as artist and writer. The exhibition will also include a black and white film, poetry and recordings of the artist reading from some of her most recently published poems and writings. Adnan was born in 1925 in Beirut and has been one of the leading voices in contemporary Arab American literature since the 1960s.
What We Call Love
12 September 2015 – 7 February 2016
Love in the 20th century, according to the poet Arthur Rimbaud, had to be reinvented. Nowadays, in a world full of crisis and conflicts, tensed between opposite ideals, and submitted to increased individualism and intense consumption, love is seriously threatened and regularly challenged. Paradoxically, love in the 21st century has never been so linked to individual identity and happiness.
What We Call Love explores how the notion of love has evolved within the 20th century. How have seismic sociological changes concerning sexuality, marriage and intimacy, alongside developments in gender issues, affected the way we conceive love today? How does visual art, from Surrealism to the present day, deal with love and what can these artistic representations tell us about what love means in our contemporary culture?
 
Drawing on contemporary sociology, neuroscience and of course art, What We Call Love sheds some light on these questions. While we cannot give a final definition of "what is love" we can examine how artists have represented it. Presented in three chapters, the exhibition draws on Surrealism's idea of love as "amour fou" (crazy love), new visions of love that emerged after the '60s and the often problematic concerns of contemporary love.
Focusing mainly on the now, this important exhibition will present a succinct selection of carefully chosen Surrealist works, alongside key conceptual and contemporary pieces, integrating new commissions and other works in the forms of cinema and performance. Texts and interviews from three leaders in their respective fields; Georges Sebbag on Surrealism, Eva Illouz on sociology and Semir Zeki on neuroscience will contribute to this reflection.
Curated  by Christine Macel, Chief Curator at Centre Pompidou, with Rachael Thomas, Head of Exhibitions at IMMA, What We Call Love will include works from Cecily Brown, Miriam Cahn, Elmgreen and Dragset, Jim Hodges, Jeremy Shaw, Pablo Picasso, Marcel Duchamp, Alberto Giacometti, Louise Bourgeois , Meret Oppenheim, Annette Messager, Andy Warhol, Rebecca Horn, Marina Abramoviæ, Nan Goldin, Wolfgang Tillmans and others.  IMMA will also be commissioning new works for this exhibition, artists to be announced.
Presented with the support of the French Embassy in Ireland.
Chloe Dewe Mathews: Shot at Dawn
10 October 2015 – 7 February 2016
Shot at Dawn is a new body of work by the British photographer Chloe Dewe Mathews that focuses on the sites at which British, French and Belgian troops were executed for cowardice and desertion between 1914 and 1918. The project comprises images of twenty-three locations at which the soldiers were shot or held in the period leading up to their execution. All are seasonally accurate and were taken as close as possible to the precise time of day at which the executions occurred.
Shot at Dawn premiered at Tate Modern in London and Stills: Scotland's Centre for Photography in Edinburgh in November 2014. Following the showing at IMMA the exhibition will travel to Ivorypress in Madrid in 2016.
Chloe Dewe Mathews is one of Britain's brightest young photographers. She has been awarded the BJP International Photography Award, Julia Margaret Cameron New Talent Award and the Flash Forward Emerging Photographer's Award by the Magenta Foundation. Her work on the Caspian region was nominated for the Prix Pictet and shortlisted for the London Photography Award. Represented by Panos Pictures, Chloe was included in the Telegraph's five most promising new artists of 2011 and the Observer's new talent of 2012. Last year she was awarded the Robert Gardner Fellowship in Photography by the Peabody Museum of Archaeology and Ethnology at Harvard University.
Shot at Dawn is commissioned by the Ruskin School of Art at the University of Oxford as part of 14–18 NOW, WW1 Centenary Art Commissions. Sponsored by Genesis Imaging and supported by the National Lottery through Arts Council England and the Heritage Lottery Fund and by the British Council, Government of Flanders, John Fell OUP Research Fund and Van Houten Fund.
Grace Weir
7 November 2015 – 6 March 2016
IMMA presents an exhibition by one of Ireland's most respected artists; Grace Weir. The exhibition will focus on a number of new works that will be supplemented by complementary existing works that span over 20 years of Weir's creative output. She represented Ireland at the 49th International Venice Biennale and has exhibited widely both nationally and internationally, and is currently Artist-in-Residence in the School of Physics, Trinity College Dublin.
Working primarily in the moving image, Grace Weir makes a critical appraisal of film through film-making, in a practice that fuses documentation with highly authored situations. She is concerned with aligning a lived experience of the world with knowledge and theory. Weir probes the nature of a fixed identity and these questions are underpinned by the theories under her scrutiny, whether it is relativity, intentionality, film theory, the duality of light or the philosophy of time and history.