IMMA presents an international research conference on the theme of Self-determination as part of the Decade of Centenaries Programme
04/10/2022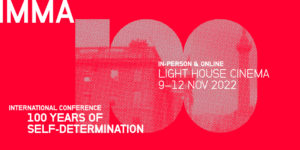 IMMA is delighted to present an international research conference 100 Years of Self-determination, a Global Perspective from 9 – 12 November. The conference marks a century since the partition of Ireland and the subsequent formation of the Irish Free State in 1922. The theme of the conference is self-determination and it focuses on the role of art and artists in shaping both of the island's jurisdictions in the international context and aftermath of the First World War. This conference is part of a three-year initiative culminating in a major exhibition in 2023. This event is supported by the Department of Tourism, Culture, Arts, Gaeltacht, Sport and Media under the Decade of Centenaries Programme 2012-2023.
The guidance of the Expert Advisory Group on Centenary Commemorations acknowledges the significant role of cultural brokers including IMMA – in managing conversations and engaging communities in a meaningful way through creative expression. The Centenaries Programme continues to encourage and support artistic and creative endeavours that have an important role in encouraging reflection, exploration and debate, allowing people of all traditions to question and consider issues which may be challenging and/or difficult. Cultural engagement also offers a space to explore complex narratives which arise from the partition on the island and the Civil War.
The conference seeks to examine the artistic responses to these historical events over time and across a range of territories, to generate new thinking and understanding about the cultural manifestations in response to these events, and to consider their significance in a contemporary context.
Commenting on the conference, Annie Fletcher, Director of IMMA, said; "Drawing on Arthur Griffith's call in 1919 to 'mobilise the poets' to help make Ireland's case for independence on the international stage, this conference will reassess the role of art and artists in exploring the international movement towards self-determination, situating their work within a global context of redrawn Imperial power, emerging nation states and independence movements post WWI and the collapse of the German, Austro-Hungarian, Russian, and Ottoman Empires."
The conference takes place online and in-person and will comprise presentations from a number of invited speakers including Adom Getachew, political theorist Neubauer Family Assistant Professor of Political Science and the College at the University of Chicago; Róisín Kennedy, Lecturer/Assistant Professor, School of Art History and Cultural Policy, UCD; Fearghal McGarry, Professor, School of History, Anthropology, Philosophy and Politics, Queens University, Belfast; Hussein Omar, Lecturer in Modern Global History, University College Dublin; Lisa Godson, Lecturer and Historian of Design and Material Culture, National College of Art and Design; and artist Jasmina Cibic, along with presentations drawn from a call for papers exploring themes such as 'Political Imaginations'; 'Official Culture'; 'Visual Culture and the Establishment'; 'Comparative Imaginations of Self-Determination'; and 'Life, Art and Politics'.  There will also be presentations from IMMA's current Irish Research Council Enterprise Postdoctoral Fellows, Dr Stephen O'Neill and Dr John Wilkins.
4 October 2022
– ENDS –
Contact: For further information and images please contact Monica Cullinane E: [email protected] Patrice Molloy E: [email protected]
 Additional Notes for Editors
Venue:
Lighthouse Cinema, Smithfield, Dublin 7 or imma.ie
Conference dates:
9 – 12 November 2022
Admission:
Admission is free
Booking details:
This four-day conference can be attended online and/or in-person. Registration is essential for both in-person and online events on imma.ie.
IMMA Reading Group: Art in the Age of Self-determination
In the lead up to the conference IMMA is hosting an online reading group 'Art and the Age of Self-determination'. Led by Dr Stephen O'Neill, this reading group focuses on some of the key texts and ideas informing the conference. The reading group takes place online via Zoom on Saturdays 1, 8, 15 and 22 October 12:00noon – 1.30pm (GMT+1). Places are limited. For information and to register click here
This conference and reading group are part of a three-year initiative culminating in a major exhibition in 2023, supported by the Department of Tourism, Culture, Arts, Gaeltacht, Sport and Media under the Decade of Centenaries Programme 2012-2023.