IMMA's vibrant outdoor programme returns this summer with a new evening series of events IMMA Nights
05/05/2022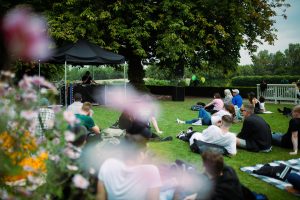 IMMA is delighted to launch IMMA Outdoors 2022, a vibrant artistic programme that turns the museum inside out and activates the 48 acres of the museum's site at the Royal Hospital Kilmainham, through artist commissions, performances, music, talks, workshops, and tours. This year IMMA presents a new series of events called IMMA Nights, running every Thursday and Friday evening from May to September, as part of a pilot initiative to support the Night-Time Economy, funded by the Department of Tourism, Culture, Arts, Gaeltacht, Sport and Media.
This year IMMA Outdoors explores the environment and what it means to be radically public by creating an inclusive meaningful space for audiences of all ages to enjoy. Highlights include a new immersive sonic installation by Em'kal Eyongakpa in the Formal Gardens from May, and a stunning painted mural installation by Navine G. Khan-Dossos in the Courtyard from July. The outdoor summer programme will culminate in an Eco Event titled Earth Rising, a weekend celebration of people, place and planet in September.
The new late evening programme, IMMA Nights, presents a wide variety of events including talks, workshops, dance, performances, film screenings, book launches, DJs and live music, across the site on Thursday and Friday evenings. IMMA will also share the site with other cultural organisations, initiatives and artist groups creating a hive of night-time activity in Dublin 8. Highlights include the return of IMMA's much loved Summer Party taking place on 15 and 16 July; a curated series of poetry and song performances titled More than the reverb, and a series of free Music in the Courtyard events throughout the summer.
IMMA Outdoors Programme Highlights
IMMA is delighted to realise a new commission in partnership with EVA International by Em'kal Eyongakpa, titled Mámbáy bebhɛp 43t / besáŋ berat / bakay nɛkɔ, from May. This immersive sonic installation presented on the Terrace of the Formal Gardens features contributions from singers and storytellers in Southeast Nigeria, Southern Cameroon and Ireland, as well as intersessions between the Gulf of Guinea and Western Europe.
A visually stunning new commission by Navine G. Khan-Dossos titled, Kind Words Can Never Die, will be presented in the Courtyard from July. Transforming the iconic courtyard space with an extensive mural painting along all three colonnades the work explores new psychological states that have emerged in response to a greater awareness of global and local climate change. A series of public workshops conceived by the artist will run through the month of July.
The IMMA Outdoors Eco Event, Earth Rising, is a vibrant celebration of people, place and planet that is deeply interwoven with themes of biodiversity and sustainability. This weekend of eco related programming, taking place from 9 to 11 September, will showcase the most exciting innovators in the field of eco citizen science, design and creativity, enabling intergenerational dialogue and empowering audiences to become agents of change.
IMMA Nights Programme Highlights
 From music and culture in the Courtyard, to late evening yoga, film screenings, talks, workshops, book launches and readings, to bespoke artists performances and dance, these are just some of the activities happening across the site on Thursday and Friday evenings throughout the summer.
On our first evening, 5 May, we are delighted to present Exploring Youth Voice in Art and Culture, in association with the exhibition The Ride Away from the Storm, a display of artworks created by young people participating in Gaisce – The President's Award at Oberstown Children Detention Campus. This event includes a panel discussion reflecting on the value of youth arts within art, culture and society and a late gallery opening of the exhibition.
To mark the closing weekend of The Narrow Gate of the Here-and-Now: Queer Embodiment, artist Eimear Walshe presents, The Piper's Grip (and other stories) in the intimate setting of IMMA's Garden Galleries on 13 May. Walshe will read from recent texts including The Piper's Grip (2021), commissioned by Mirror Lamp Press, and FUCK BOX (2020) commissioned by TULCA, Galway. Walshe's readings will be followed with performances by musicians Seamas Hyland and Djackulate.
A specially curated series of Poetry and Song performances titled, More than the reverb, will take place from 19 May – 29 July in the Formal Gardens. This series of outdoor live events gathers together poets, singers and storytellers to share lullabies, chants, laments, poems and folk songs, and features contributions from Ayuk, Mbongeuh Angwi Tah, Ceara Conway, Em'kal Eyongakpa, Sandra Joyce, John Tunney, Samuel Yakura, amongst others. These performances reflect and expand upon the sonic installation by Em'kal Eyongakpa.
On 30 June in partnership with Granta Books, IMMA is delighted to present an evening in celebration of the book Accidental Gods: On Men Unwittingly Turned Divine by Anna Della Subin. Named a best book of the year in the Irish Times, the TLS, and Esquire, Accidental Gods is an extraordinary meditation on race, empire, and power, told through stories of men who found themselves inadvertently turned into deities. Subin will be joined by renowned mythographer, novelist, and literary critic Marina Warner and introduced by Mark O' Connell, author of To Be a Machine and Notes from An Apocalypse.
IMMA's much loved Summer Party returns in July, Continuous Patterns is a two-day summer celebration of music, art and atmosphere in the grounds of IMMA. Experience live music, DJs, art, delicious food, interesting drinks, and some very special surprises over two days of fun and atmosphere in the RHK. On Friday 15 July Continuous Patterns presents an evening of forward focused music and entertainment for that particular Friday feeling, while Saturday 16 July invites you to spend a relaxing evening with friends, surrounded by the sights and sounds of a gently considered programme in the Courtyard of IMMA.
IMMA Nights presents a free music programme in the beautiful surroundings of the IMMA Courtyard. Starting from 6 May on the first Friday of every month DJ Nigel Wood will play from his contemporary World Music collection for audiences to relax and dance too. Also, in May we present guitarist Redmond O'Toole with his groundbreaking 'Brahms guitar' and a live performance by Olesya Zdorovetska, a powerful voice in new music.
IMMA Nights will also bring together participants of the IMMA's Residency Programme to create a 'Studio Street' of activation and Open Studio events with resident artists and invited guests generating a suite of artist led activities.
The Flying Dog cafe, located in the Courtyard, is open until 8pm during the IMMA Nights programme.
For full details of the programme please visit the webpage IMMA Outdoors.
5 May 2022
–       Ends –
Contact : For further information and images please contact Monica Cullinane E: [email protected] Patrice Molloy E: [email protected]