IMMA Summer Party Returns this July – IMMA Announces Programme line up and Tickets on Sale
26/05/2022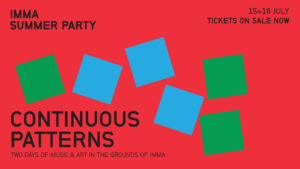 IMMA's much loved Summer Party returns on 15 and 16 July 2022, Continuous Patterns is a two-day summer celebration of music, art and atmosphere in the grounds of IMMA. Experience live music, DJs, art, delicious food, interesting drinks, and some very special surprises over two days of fun and atmosphere in the Royal Hospital Kilmainham.
Continuous Patterns presents a selection of artists who are at the very cutting edge of contemporary Irish culture, across a range of genres and moods. The programme has been carefully curated to match the rhythms of two special and distinct mid-summer evenings and presented across two stages of live music, DJs and more in the wonderful surrounds of the RHK.
On Friday 15 July Continuous Patterns presents an evening of future focused live music on our Courtyard and Terrace stages, with performances from exciting emerging RnB acts Jar Jar Jr, Negro Impacto and Efe; and a unique collaboration from the exhilarating and elegant pairing of power pop sensation Ae Mak and the renowned contemporary ensemble Glasshouse. Closing out the evening in full dancing mode we welcome a rare hometown live performance from one of the country's most celebrated electronic producers and DJs R.Kitt.
The programme for Saturday 16 July creates a more relaxed vibe, enjoy a leisurely mid-summer's evening in IMMA with psych-folk artist Aoife Wolf, the folk stylings emerging Cork songwriter O Deer, Ukulele collective Rugs, the riot of sound that is Stomptown Brass, and a very special performance from Ye Vagabonds in collaboration with renowned composer and multi-instrumentalist Gareth Quinn Redmond.
Two more very special guests will be announced in the coming weeks.
Each evening our terrace bar will be sound-tracked by some of our most celebrated selectors with DJ sets from Dublin stalwarts and radio personalities Claire Beck and Donal Dineen, emerging Japanese Irish selector Emmy Shigeta and the breezy sounds of the Desert Island Disco crew.
Continuous Patterns expands on the successful series of events, Emerging Patterns, presented by Homebeat as part of IMMA Outdoors in 2021. For IMMA's Summer Party Homebeat presents a multi-disciplinary programme that animates the grounds of IMMA, filling the air with ambient soundscapes, melodic tones and stimulating conversation. Continuous Patterns underlines IMMA's position as cultural incubator, providing space to both the artistic and wider Dublin communities, and delivers a welcome return to experiencing this palette of creation in person amongst its beautiful grounds.
26 May 2022
Ends 
Contact: For further information and images please contact Monica Cullinane E: [email protected] 
Additional Notes for Editors
TICKETS
Day Tickets: €30.00 (including booking fee).
Purchase tickets here.
LINE UP
FRIDAY 15 JULY | Doors 18.00
Live
R.Kitt (Live)
Ae Mak X Glasshouse
Very Special Guest
Efe
Negro Impacto
Jar Jar Jr.
Djs
Claire Beck
Donal Dineen
—
SAT 16 JULY | Doors 18.00
Live
Ye Vagabonds with Gareth Quinn Redmond
Stomptown Brass
Very Special Guest
O Deer
Aoife Wolf
Rugs
DJS
Emmy Shigeta
Desert Island Sounds
Continuous Patterns is produced by Sherpa Events and curated by Homebeat.