IMMA presents Xenogenesis an exhibition exploring the work of artist collective The Otolith Group
07/06/2022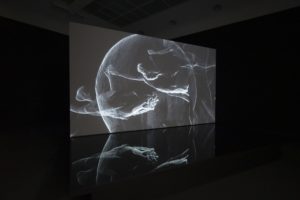 IMMA (Irish Museum of Modern Art) is delighted to present the exhibition The Otolith Group: Xenogenesis opening on Thursday 7 July 2022. The Otolith Group is an artist collective, founded in London in 2002 by Anjalika Sagar and Kodwo Eshun. Featuring a cross-section of key works produced by The Otolith Group between 2011 and 2018, the exhibition reflects the artists' ongoing commitment to creating what they think of as 'a science fiction of the present'.  Through images, voices, sonic images, sounds, and performance Sagar and Eshun "are usually classified as an art collective, but in truth they operate something like a production company, something like an academy, something like a library, something like a radio station" (Ed Halter, Artforum, 2022).
The Otolith Group's pioneering artworks, which include post-cinematic essayist films, videos and multiple screen installations, address contemporary social and planetary issues, the disruptions of neo/ colonialism, the way in which humans have impacted the earth, and the influence of new technology on consciousness.
Xenogenesis is named after The Xenogenesis Trilogy, Octavia Butler's title for her science fiction novels. Along with Octavia Butler (1947-2006), other key figures that form a compositional matrix for the exhibition include the composer and musician Julius Eastman (1940–1990) and the polymath and educator Rabindranath Tagore (1861–1941).
Curated by Annie Fletcher, Director of IMMA, the exhibition at IMMA is the final stage of a major international collaboration, having originated at the Van Abbemuseum, the Netherlands, and toured to Buxton Contemporary, Melbourne; Institute for Contemporary Art at Virginia Commonwealth University, Richmond; Southern Alberta Art Gallery, Lethbridge; the Sharjah Art Foundation, Sharjah; and the Museum of Contemporary Art Metelkova, Ljubljana, Slovenia. It is accompanied by a significant new publication, Xenogenesis, a polyphonic exploration of the work of The Otolith Group, published by IMMA and Archive Books.
Annie Fletcher said "Xenogenesis is an extraordinary project in both its exhibition and book form. The Otolith Group's post-cinematic films and complex installations address the forces and events that have shaped our world while offering inspiring examples and models of how we might collectively imagine a different future."
The Otolith Group, and their longstanding curatorial platform The Otolith Collective, will enact the Department of Xenogenesis (DXG) at IMMA, a time space for convening public online and offline discussions, performance, screenings and exhibitions with artists, filmmakers, theorists and musicians. The DXG builds upon the exhibition and has developed throughout the tour.
7 June 2022
– ENDS –
Contact: For further information and images please contact Monica Cullinane E: m[email protected] Patrice Molloy E: [email protected]
Additional Notes for Editors
Exhibition Details
Title: The Otolith Group: Xenogenesis
Dates: 7 July 2022 – 12 February 2023
Tickets: Adult €8, Season ticket €10 (unlimited repeat visits), Concession €5. Free on Tuesdays.
IMMA Members, Students, and Under 18s always free. Book online here
Open: Tuesday, Thursday, Friday, Saturday: 10am – 5.30pm. Wednesday: 11.30am – 5.30pm. Sunday: 12noon – 5.30pm. Bank Holiday Mondays: 12noon – 5.30pm.
Artists Talk
Thurs 7 July at 5:30pm, The People's Pavilion, IMMA
Admission Free, booking essential
Publication
The exhibition is accompanied by a significant new publication published by IMMA and Archive Books, 2021. Price €35 from The IMMA Shop
About the Artists
The Otolith Group was founded by artists and theorists Anjalika Sagar and Kodwo Eshun in 2002. The anatomical entity of the otolith operates as a kind of figurative black box for withholding intention and calculating discrepancy. Articulating the idea of the Otolith with the idea of the Group alludes to the histories of collective practices invented by artists that theorise and theorists that practice art within and beyond the United Kingdom.
The post-cinematic practice of Eshun and Sagar is informed by an aesthetics of the essayistic that takes the form of a science fiction of the present in which moving images, sonic speculations, performances, publications and installations explore the intertemporal crises and interscalar catastrophes that construct the Racial Capitalocene.
The Otolith Group has been commissioned to develop and exhibit their works, research, installations and publications by a wide range of museums, public and private galleries, biennials and foundations worldwide.
Significant solo exhibitions of their work include the touring exhibition Xenogenesis; O Horizon, The Rubin Museum of Art, New York (2018); The Radiant, Art Gallery Miyauchi, Japan (2017); In the Year of the Quiet Sun, Bergen Kunsthall and CASCO Office for Art Design and Theory, Utrecht (2014–2015); Novaya Zemlya, Serralves Museum of Contemporary Art, Porto (2014–2015); Medium Earth, REDCAT, Los Angeles (2013); Westfailure, Project 88, Mumbai (2012); Thoughtform, Museu d'Art Contemporani de Barcelona and MAXXI, Rome (2011–2012); A Long Time Between Suns (Part I), Gasworks, London (2009); and A Long Time Between Suns (Part II), The Showroom, London (2009), for which they were nominated for the Turner Prize in 2010.
Their work has been shown internationally in group exhibitions, including Life Between Islands: Tate Britain (21/ 22), Not Without Joy: Galerie Rudolfinum Prague (21/22), CC: World, Haus der Kulturen der Welt (HKW) (2020); Non-Aligned, NTU Centre for Contemporary Art, Singapore (2020); the first Sharjah Architecture Triennial (2019); Carnegie International, 57th Edition, Pittsburg (2018); bauhaus imaginista. Corresponding With, Japan, The National Museum of Modern Art, Kyoto (2018); Sharjah Biennial 13 (2017); 11th Gwangju Biennale (2016); Marrakech Biennale (2016); GLOBALE: Infosphere, ZKM | Center for Art and Media Karlsruhe (2015–2016); The Anthropocene Project, HKW (2014); The Whole Earth, HKW (2013); ECM: A Cultural Archaeology, Haus der Kunst, Münich (2012–2013); dOCUMENTA 13, Kassel (2012); Taipei Biennial (2012); Biennale de Lyon (2011); British Art Show 7 (2010–2011); Manifesta 8, Murcia (2010–2011); São Paulo Biennial (2010); Shanghai Biennale (2008); Riwaq Biennale (2007); International Biennial of Contemporary Art of Seville (2006); Tate Triennial, Tate Britain (2006); and Transmediale (2004).